Before installing ReliefJet Essentials for Outlook, please review the system requirements. If you are not sure whether your system meets these requirements, do not worry: the installer will automatically check the availability of the required components and, if necessary, advise you of further steps to take.
Once the ReliefJet Essentials installer has launched, you will be asked to select the language to be used during the installation [1]. Please note that the application will run in the language of your Windows operating system or Outlook. If that language is not supported yet, the application will automatically run in English.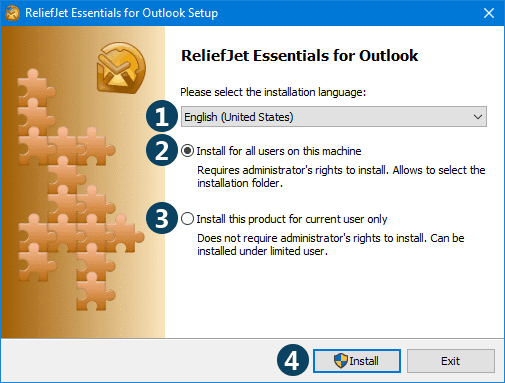 Next, choose whether you would like to install ReliefJet Essentials for all users on the computer [2] or for current user only [3]. Each option has its advantages. The recommended option is installing the application for all users. In this case, you can access all the features of the product; however, you will need the administrator rights on the computer in order to install the application this way. Installing for current user only does not require the administrator rights, the product can be installed for a restricted user; however, some of the product's features will be restricted. Make your choice and then click the Install button [4].
Warning! One of the integration modes with Outlook 2010 (and below) rules will be disabled if the product is installed for current user only. See Integrating with Outlook rules section for more details.
Follow the installation wizard. The last installation step is to decide whether you need the Outlook add-in. Check the [1] box if you want to use all product features right in your Outlook. Now click the Install button [2] and wait for the installation to complete.
If necessary (for example, when upgrading or reinstalling the software), you can easily remove ReliefJet Essentials for Outlook from your computer. To do so, use the Add or Remove Programs or Uninstall or change a program item in the Windows Control Panel. Simply select ReliefJet Essentials for Outlook on the list that appears and then click the Remove or Uninstall button, depending on your need.