Registering the product grants access to all the features of the software, removes the Buy Now! button from all the dialog windows in the application and removes all the restrictions that are imposed by the trial version. The restrictions imposed by the trial version include the permission to run each utility no more than ten times. Besides that, certain utilities may have their specific restrictions.
To register the product, you need to obtain a unique product key. You can get a key by purchasing the product by clicking the Buy Now! button or by simply following the purchase link. Upon completing this simple procedure, you will promptly be sent a product registration key. That is the key you should enter in the registration window, which you can open by clicking the Buy Now! button in ReliefJet Essentials for Outlook.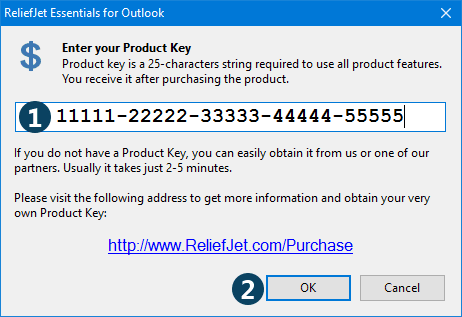 When you enter your registration key [1] and press the OK button [2], the product will switch to the full-version mode. All the restrictions of the trial version will instantly be removed, and the Buy Now! button will disappear from all the dialog windows.
Warning! You can enter registration key for single utility license in utility selector, favorite's manager and during execution of the utility if one of the trial limitations was reached.
Since ReliefJet Essentials for Outlook is available in several editions, it is possible to change the product edition, which is accomplished by entering the appropriate registration key. To enter another registration key (for example, received after the upgrade), start the launcher application and follow the About tab. Your edition is displayed next to the product version as a hyperlink. Click on this link and enter your new registration key, as described above.
Tip: The most convenient way to enter your product key without typos is to copy and paste it using Windows clipboard.