Quick Folders
Add-in for easy navigation through Outlook folders. Navigate to the folder containing the opened message, quickly find the folder you need, move or copy your emails and other Outlook items reliably and easily.
Displays a flat list of Outlook folders with a quick search option.
Allows you to select folders of a certain type: messages, contacts, tasks, calendars, notes, journals.
Shows folders from all accounts connected to the Outlook profile or only specified folders with subfolders.
Supports Exchange Server Public Folders.
Can load a list of folders when you start Outlook, enabling you to instantly search for them later.
Searches with a part of the folder name or with a wildcard pattern.
Navigates to the folder containing the opened Outlook item.
Moves or copies selected items to the target folder, allowing you to find destination in seconds.
Allows you to set keyboard shortcuts for navigating, moving, and copying to a folder.
If you have multiple Outlook accounts with hundreds of folders, how do you quickly find and navigate to a folder? Browse through them all, one by one? Memorize the location and dive deep into folder hierarchies manually? Boost your productivity by automating folder searches when you navigate or copy and move Outlook items.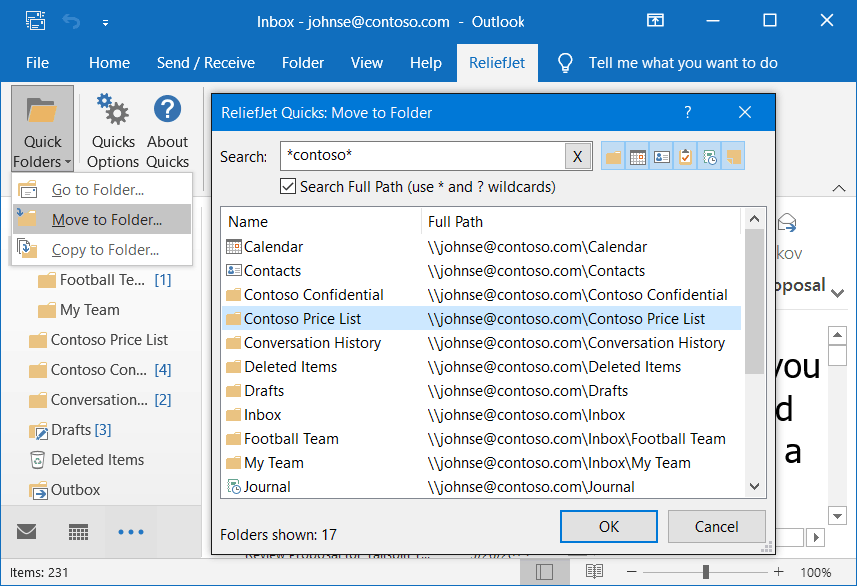 How to search for folders in Outlook
To display all folders of the accounts connected to your Outlook profile, click the Quick Folders button on the ReliefJet tab of the Outlook ribbon. You can now quickly browse through the available folders and go to any of them by double-clicking or pressing OK after selecting the desired folder.
The Quick Folders add-in allows you to instantly find the folder you need by typing a part of its name or filtering folders of a certain type.
How to show specific Outlook folders
To display folders of the type you want, use the buttons to the right of the search bar. You can hide and show mail, calendar, contact, task, note, and journal folders.
The add-in allows you to browse through all Outlook accounts, including or excluding Exchange Public Folders. You can display only desired ones. Configure their display:
Open the ReliefJet tab on the Outlook ribbon.
Press the Quicks Options button.
Select Quick Folders and customize the settings in the Product options group.
How to find a folder in Outlook
After displaying folders of a particular type or their complete list, you can easily find any of them by a fragment of its name. You can also use wildcard search patterns similar to Windows filename masks: an asterisk (*) for several characters and a question mark (?) for a single character. To use patterns, enable the Search Full Path mode.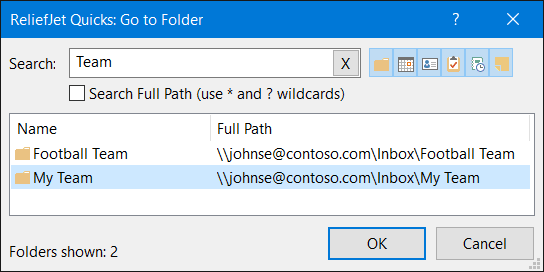 How to find which folder an Outlook email is in
When you open a message from Outlook search results, it isn't easy to know where it is stored. Also, when you are working with multiple message windows, you can forget their original location. The Quick Folders add-in allows you to immediately navigate to a folder containing an opened Outlook message.
To do this, click Quick Folders > Go to Folder... on the ReliefJet tab of the Ribbon.
How to copy and move contacts, emails, and other Outlook items to other folders
Sorting emails is a daily necessity for extensive business conversations. A convenient way to organize your mailbox is to create separate folders for specific message categories. Outlook then provides the user with two options:
arrange email and other items (notes, contacts, etc.) into folders manually;
create rules for incoming mail processing, so messages are moved to the correct destination automatically.
The first method is time-consuming and leads to mistakes if you have various messages and folders. You must drag and drop or copy and paste each item into the required folder by finding it among many others. Manual search in Outlook folder trees is inconvenient and laborious.
The second method automates the work, but its disadvantage is maintaining a substantial number of Outlook rules. As a result, it can be difficult to track down why emails go to the wrong place or to change the rule if necessary.
Use the Quick Folders add-in to flexibly sort your mail, move and copy contacts, tasks, calendar entries, and any other Outlook items:
Select the item you need in your mailbox or open it in a separate window.
Click the

Quick Folders

drop-down on the

ReliefJet

tab of the Outlook ribbon and select

Move to Folder

or

Copy to Folder

action.
To quickly find a folder, type a part of its name.
You can specify keyboard shortcuts to perform the Go to Folder, Move to Folder, and Copy to Folder actions even faster. To do this, on the ReliefJet tab of the Outlook ribbon, click Quicks Options and select Quick Folders.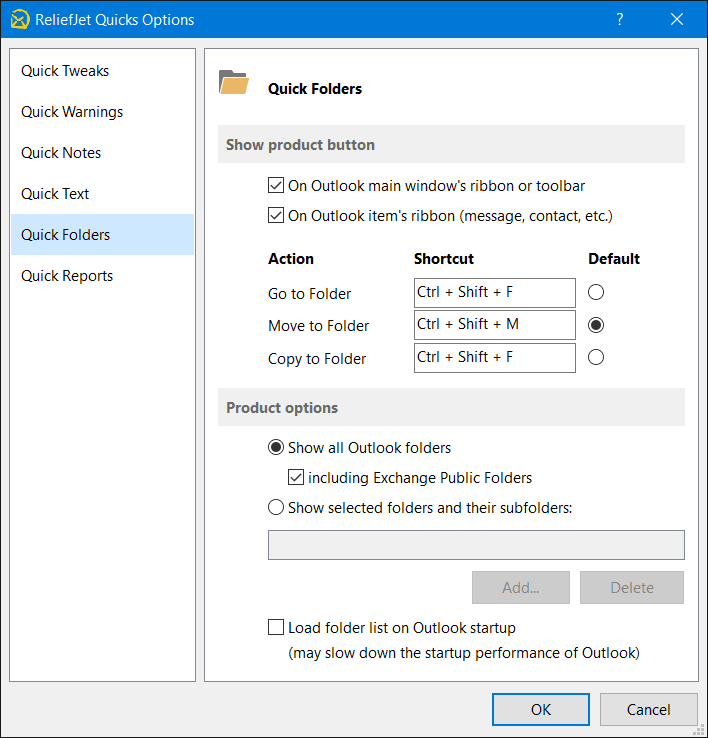 Described product is a part of ReliefJet Quicks family: fast and reliable productivity solution for Microsoft Outlook. Besides them ReliefJet Quicks provides other useful tools that significantly simplify every Outlook user's life.
Purchase ReliefJet Quicks for Outlook
For your convenience, we teamed up with PayPro Global to provide a secure and reliable platform for selling our software products online. The whole ordering process is supported by PayPro Global, who handles all transactions details. Your private data is 100% safe, as PayPro Global complies with the latest online security standards.
More than 70 traditional, international and local payment methods available including all major Debit and Credit cards, eWallets (PayPal, Alipay, Webmoney, etc.), Wire Transfers, and many more. All specified prices exclude VAT.
ReliefJet Quicks Bundle
One Product
Support and Updates
Product support
2 Years
1 Year
Priority support
Yes
No
Free updates
1 Year+
Minor fixes
Free remote assistance
Yes
No
Price Per License
1 license purchase
$49.95


($9.99 per product)

$14.95


($14.95 per product)

2-9 licenses purchase
$34.95
$14.95
10+ licenses purchase
$19.95
$9.95
Available Products
All ReliefJet Quicks products in a single package.
Download
Buy Now
Buy Now
Site License, Upgrade Options and more purchase details...
Our clients: