Quick Notes
Add, edit, and search comments in Outlook emails or tasks in a convenient, fast, and native way.
Attach Quick Notes to Outlook items with a single click.
Manage Quick Notes just like any other attachments: delete, save, print, and copy.
Search for messages containing Quick Notes using the built-in Outlook search.
Use webmail and mobile email apps to search for and view Quick Notes.
How to add a note to an Outlook item
To add a comment to a message or task, you can use the following Outlook features:
Flag the item. This method is suitable if you need to add a short note. A flag text is a note of up to 255 characters that appear above the message text. To leave a note for a selected message, click the

Follow Up

button in the

Tags

group on the Outlook ribbon's

Home

tab and select

Custom...

Enter the text in the

Flag to

field and click

OK

. The comment will now be displayed when viewing the email.
Add comments to the message text. If you need a longer note, open the message in a separate window and type your comments directly into the email body. To do this, click

Actions > Edit Message

on the

Message

tab of the Outlook message window's ribbon. Save any changes before you close the message window.

Editing the original message is not the best practice to comment. When editing, it is easy to accidentally wipe out important parts of the message text. You have to be careful with such emails. It is highly discouraged to edit emails that could be used as confirmation letters.

Use Outlook notes or Microsoft OneNote. This method is suitable for lengthy comments or those containing images.

To add an Outlook note to an email, open the message in a separate window and set it to edit mode. You can now drag and drop a note into this window or attach it by clicking the

Outlook Item

button on the

Insert

tab of the Outlook message window's ribbon.
If you have the Microsoft OneNote add-in installed on your computer, there should be the

OneNote

button on the Outlook ribbon. Clicking this button creates a linked note. Here, the email is stored in Outlook, the note is stored in OneNote, and both items contain links to each other.

Attach a Quick Note. Drive more productivity and comment on emails or tasks with a single click.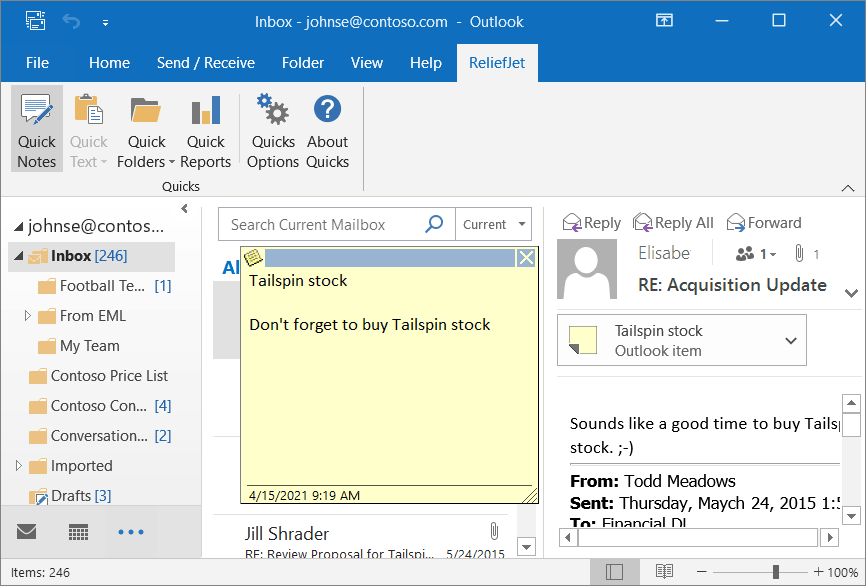 To insert a Quick Note into a message or task:
Select an Outlook item or open it in a separate window.
Click the

Quick Notes

button on the

ReliefJet

tab of the Outlook ribbon.
Write your comments in the opened note window and close it. The Quick Note is saved automatically and appears above the message text in the attachment panel. Pay attention to the fact its title is always the first line of your comment.
How to manage Quick Notes in Outlook
You can deal with Quick Notes as you do with regular attachments. You can view or open Quick Notes in a separate window, print them, save to a separate file, copy in full or just the title, or remove them from an Outlook item. Simply right-click the Quick Note, choose the desired action from the context menu, or open the note by double-clicking it.
Outlook items with Quick Notes are easy to find by a part of the note's title or content using Outlook search functions.
To delete a Quick Note, clear its contents and close it. The add-in deletes empty Quick Notes automatically. You can also use Remove Attachment in the note's context menu.
One of the great advantages of Quick Notes is that you can view and search them in the Outlook Web App (OWA) and mobile email applications such as Outlook for Android or iOS.
Described product is a part of ReliefJet Quicks family: fast and reliable productivity solution for Microsoft Outlook. Besides them ReliefJet Quicks provides other useful tools that significantly simplify every Outlook user's life.
Purchase ReliefJet Quicks for Outlook
For your convenience, we teamed up with PayPro Global to provide a secure and reliable platform for selling our software products online. The whole ordering process is supported by PayPro Global, who handles all transactions details. Your private data is 100% safe, as PayPro Global complies with the latest online security standards.
More than 70 traditional, international and local payment methods available including all major Debit and Credit cards, eWallets (PayPal, Alipay, Webmoney, etc.), Wire Transfers, and many more. All specified prices exclude VAT.
ReliefJet Quicks Bundle
One Product
Support and Updates
Product support
2 Years
1 Year
Priority support
Yes
No
Free updates
1 Year+
Minor fixes
Free remote assistance
Yes
No
Price Per License
1 license purchase
$49.95


($9.99 per product)

$14.95


($14.95 per product)

2-9 licenses purchase
$34.95
$14.95
10+ licenses purchase
$19.95
$9.95
Available Products
All ReliefJet Quicks products in a single package.
Download
Buy Now
Buy Now
Site License, Upgrade Options and more purchase details...
Our clients: