Quick Warnings
Save time and nerves for yourself and your email recipients. Receive extra warnings when sending Outlook messages to avoid frequent mistakes and getting into trouble.
Warns when you try to reply only to a sender of a multiple-recipient message.
Warns when you try to reply to all recipients of an email-if there are several.
Warns you when trying to reply to a message where you are not one of the recipients, or you are the recipient of a blind carbon copy (BCC).
Warns when you send messages without a subject, reducing the chance of your emails getting into spam.
Disables Outlook warning when sending messages with an empty subject, if necessary.
Allows you to enable or disable each of the Quick Warnings individually.
When replying to emails with multiple recipients, we have to be especially careful. When responding to clients and partners to emails during the workday, we are often busy with other tasks, focused on the message content, and automatically perform such routine actions as clicking the "Reply" button. There is a high probability of making a mistake when sending a reply to a multi-recipient message. Did you want to reply to all recipients or the sender only? A mistake can not only provoke confusion, distract your colleagues from their work, and annoy your partners, but also result in serious consequences. For example, if the letter is about legal or accounting issues, information leakage is unacceptable. But if more than one person is awaiting a response, the delay due to oversight can lead to high financial and organizational costs.
ReliefJet Quick Warnings add-in for Outlook helps you eliminate unpleasant situations caused by incorrect actions when replying to an email.
Activate one or more Quick Warnings of your choice
Warnings when you send Outlook messages with no subject.

Are you surprised that partners aren't getting messages from you? Do you ask them to check their spam and junk folders? If your emails often end up in spam, this negatively affects your company's image and causes business communication difficulties. However, not everyone knows the possible reason is that the email has no subject. Messages with an empty subject field rarely pass spam filters. Messages without a subject line look unprofessional and hurt the sender's reputation. Not all versions of Outlook warn about a blank subject, and this add-in helps to fix it.

By default, Outlook makes its own decisions whether to warn you about emailing with no subject, and these decisions vary depending on the version of Outlook. However, you might want to disable default Outlook warnings about empty message subject fields in rare cases. The ReliefJet Quick Warnings add-on allows you to do this as well.

Warnings when you click "Reply to All" when replying to a mailing list message (with multiple recipients).

When emailing, it is critical to prevent exposure of confidential information or information not intended for outsiders. Enable this warning to get rid of unnecessary stress and concerns when frequently replying to multiple-recipient messages.

Warnings when you click "Reply" when replying to a mailing list message (with multiple recipients).

When you send a quick answer to a question, you click "Reply". However, if the email recipients were interested in this answer, you should have clicked "Reply to All". Activate this Quick Warning to prevent such a mistake from happening.

Warnings when you reply to a message, being a "Bcc" recipient, and when you are not the "To" or "Cс" recipient.

When responding to emails in a workflow, it's easy to overlook that you've been assigned a hidden copy of a message. Here, you should be especially attentive in the subsequent conversation. A warning when replying to messages where you are not one of the recipients prevents possible troubles.
How to enable or disable Quick Warnings
On the

ReliefJet

tab of the Outlook ribbon, press

Quicks Options

.
In the left part of the window, select

Quick Warnings

.
Activate or deactivate the appropriate warnings.
ReliefJet Quick Warnings greatly simplify and speed up your Outlook workflow, making it more productive and calmer. Our add-in will save you from checking each time the fields are filled out correctly in business emails.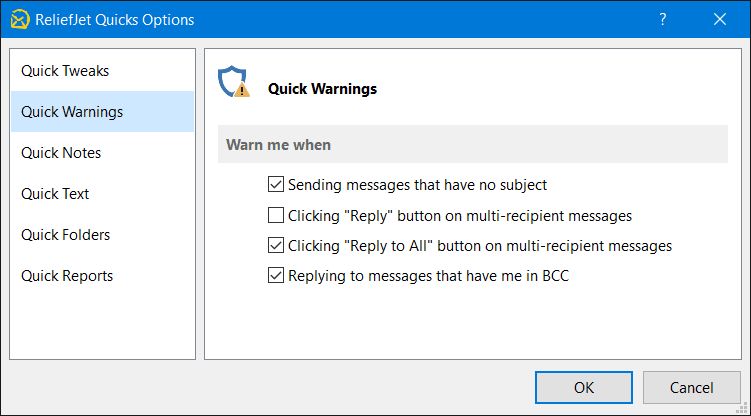 Described product is a part of ReliefJet Quicks family: fast and reliable productivity solution for Microsoft Outlook. Besides them ReliefJet Quicks provides other useful tools that significantly simplify every Outlook user's life.
Purchase ReliefJet Quicks for Outlook
For your convenience, we teamed up with PayPro Global to provide a secure and reliable platform for selling our software products online. The whole ordering process is supported by PayPro Global, who handles all transactions details. Your private data is 100% safe, as PayPro Global complies with the latest online security standards.
More than 70 traditional, international and local payment methods available including all major Debit and Credit cards, eWallets (PayPal, Alipay, Webmoney, etc.), Wire Transfers, and many more. All specified prices exclude VAT.
ReliefJet Quicks Bundle
One Product
Support and Updates
Product support
2 Years
1 Year
Priority support
Yes
No
Free updates
1 Year+
Minor fixes
Free remote assistance
Yes
No
Price Per License
1 license purchase
$49.95


($9.99 per product)

$14.95


($14.95 per product)

2-9 licenses purchase
$34.95
$14.95
10+ licenses purchase
$19.95
$9.95
Available Products
All ReliefJet Quicks products in a single package.
Download
Buy Now
Buy Now
Site License, Upgrade Options and more purchase details...
Our clients: