Quick Text
Spend less time emailing. Add email text blocks instantly. Insert greetings, signatures, standard responses, and other commonly used template phrases.
Insert ready-made text blocks with just two clicks.
Use keyboard shortcuts to insert ready-to-use snippets with one touch.
Add attachment lists to your messages: avoid forgetting about any of them and avoid typos.
Insert the current date and time into Outlook emails.
Use the familiar formatting options: change the font, its color, and styles.
Create new templates from old ones by copying them.
Arrange the template list automatically in alphabetic order or manually in the order you prefer.
Don't limit yourself - Quick Text supports any number of templates.
Do you often type the same words or phrases? Do you constantly send emails to the same recipients? Are the message subjects often repeated? Save time and avoid mistakes with the Quick Text add-in for Outlook. This program allows you to add pre-made text snippets of any size to your emails, appointments and meetings, tasks, and other Outlook items automatically. Insert them with hotkeys or by clicking on the Outlook ribbon. Perfect for greetings, salutations, replies to inquiries, business signatures, and filling in address and subject fields.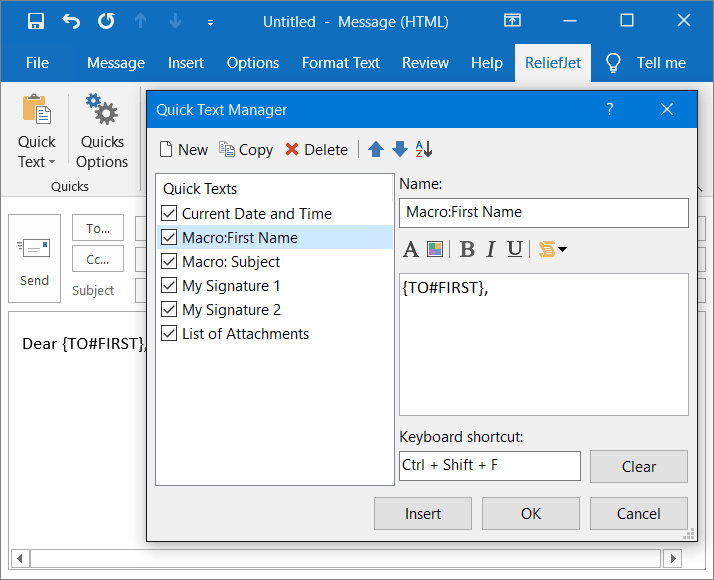 How to quickly add text to Outlook item
To deal with Outlook messages, tasks, calendar items, etc. more productively, simply create a set of templates you need. After that, you can insert ready-made text blocks by selecting them using a couple of keyboard or mouse clicks. Additional program abilities allow you to insert changeable data, such as attachment lists or the current date and time.
How to create a text template
The Quick Text add-in offers a wide range of options for creating and editing text templates.
On the

ReliefJet

tab of the Outlook main window's ribbon, press

Quicks Options

and select

Quick Text

.

Press the

Manage...

button.
In the

Quick Text Manager

window, click

New

to add a new template.
Name the new template by filling in the

Name

field.
Type the Quick Text you want under the name you specified.
Use the formatting options. Select the font, its size, color, and style using the buttons on the formatting toolbar.
To automatically insert a list of attachments or the current date and time into an Outlook item, use predefined macros.
To create a new template based on an existing one, click the Copy button and change the copied fragment. You can create as many Quick Texts as you like. To edit any Quick Text, select it in the list. You can then rename it, edit it, and assign a new keyboard shortcut.
The pre-installed Quick Texts are added as an example. Feel free to edit or delete them if needed.
How to insert ready-made Quick Text into an Outlook item
You can add auto-text to messages and other Outlook items in one of two ways:
1) With the mouse
Click the Quick Text button on the Outlook ribbon and select the one you want from the drop-down list.
If you don't see a template you need, then it's unavailable. To add it to your message, select the Quick Text menu's lowest item to open the Quick Text Manager. Select the required one and click the Insert button.
To change the display order of pre-made templates or sort them alphabetically, use the arrow buttons on the Quick Text Manager's toolbar.

To insert templates even faster, move the

Quick Text

button from the

ReliefJet

tab to the

Home

tab:
Right-click anywhere on the

Home

tab on the Outlook ribbon and select

Customize the Ribbon...

In the

Choose commands from

drop-down list, set

All Commands

and select

Quick Text

command in the list below.
Under the right-hand list of ribbon tabs, click

New Group

, then

Rename

and type the group's name. For example, ReliefJet.
Click the

Add >>

button between the lists, making sure the

Quick Text

command is selected on the left, and the ReliefJet group you created is selected on the right.
Click

OK

, and the button will appear on the

Home

ribbon tab.
Similarly, you can add the Quick Text button to the Quick Access Toolbar of Outlook windows.
2) With the keyboard
For any Quick Text, you can set a combination of hotkeys. This way, you do not have to tear yourself away from the keyboard while typing messages in Outlook. Use the shortcuts to insert the most common snippets, for example, current date and time.
Whether you are a support assistant, sales manager, or just an intensive email user, ReliefJet Quick Text will save many hours of your precious time writing and correcting the same text blocks.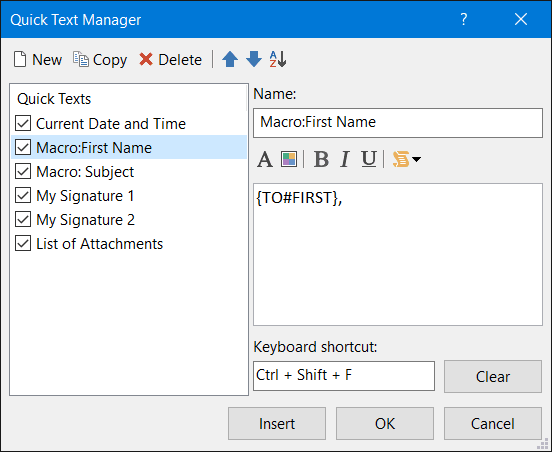 Described product is a part of ReliefJet Quicks family: fast and reliable productivity solution for Microsoft Outlook. Besides them ReliefJet Quicks provides other useful tools that significantly simplify every Outlook user's life.
Purchase ReliefJet Quicks for Outlook
For your convenience, we teamed up with PayPro Global to provide a secure and reliable platform for selling our software products online. The whole ordering process is supported by PayPro Global, who handles all transactions details. Your private data is 100% safe, as PayPro Global complies with the latest online security standards.
More than 70 traditional, international and local payment methods available including all major Debit and Credit cards, eWallets (PayPal, Alipay, Webmoney, etc.), Wire Transfers, and many more. All specified prices exclude VAT.
ReliefJet Quicks Bundle
One Product
Support and Updates
Product support
2 Years
1 Year
Priority support
Yes
No
Free updates
1 Year+
Minor fixes
Free remote assistance
Yes
No
Price Per License
1 license purchase
$49.95


($9.99 per product)

$14.95


($14.95 per product)

2-9 licenses purchase
$34.95
$14.95
10+ licenses purchase
$19.95
$9.95
Available Products
All ReliefJet Quicks products in a single package.
Download
Buy Now
Buy Now
Site License, Upgrade Options and more purchase details...
Our clients: