Command Line Support
ReliefJet Essentials for Outlook provides a powerful command line interface (CLI). CLI allows running the utilities without having to run Outlook or the standalone application. Command line support is especially useful when integrating existing email processing systems and batch scripts and when performing mass processing of Microsoft Exchange Server mailboxes and PST file storages. Furthermore, it allows using Windows Scheduler along with ReliefJet Essentials for Outlook.
Please note: full-featured CLI is available in the Professional Edition of the product only. We provide a free batch/PowerShell script writing assistance for all Professional Edition customers.
You can find the command line usage example on Export Outlook Items to PST Format utility's page.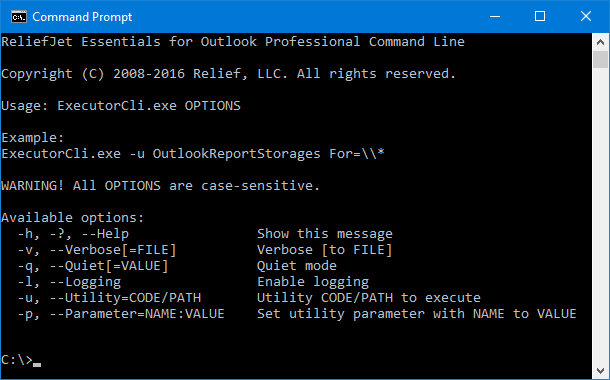 Command line support is a powerful feature of ReliefJet Essentials for Outlook
Described features are part of ReliefJet Essentials for Microsoft Outlook: fast and reliable productivity solution for Microsoft Outlook. Besides them ReliefJet Essentials provides many other useful features that significantly simplify every Outlook user's life. An Outlook add-in and a command line utility are also provided along with the standalone application.