Outlook Integration
ReliefJet Essentials for Outlook integrates seamlessly with Outlook in various ways by installing an Outlook Add-in. You can always opt out of the integration by disabling ReliefJet Essentials Add-in for Outlook.
User Interface
Upon installation you can find ReliefJet Essentials in Outlook ribbon (Outlook 2007-2019), Outlook toolbar and menu (Outlook 2007) as well as in the context menus of different folders and items (such as messages, contacts, appointments, tasks, journal and notes).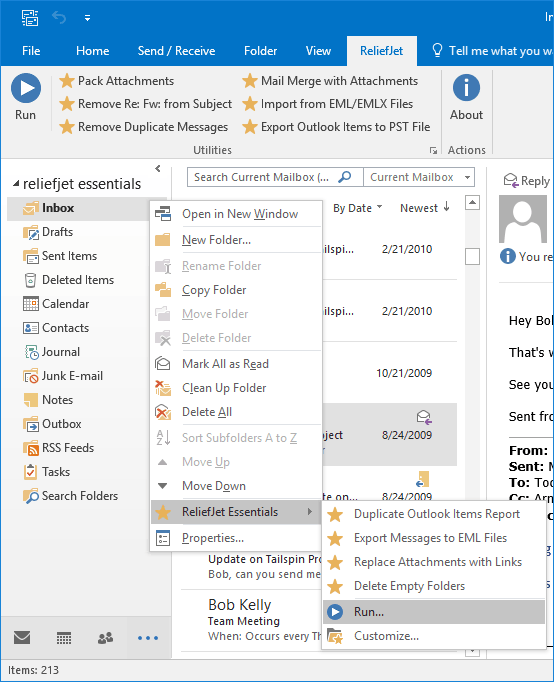 Each user interface element (toolbar / menu / ribbon / context menus) can have has its own list of Favorites. So it's very easy-to-use any of the many utilities: just run it against any selected item or group of items.
Outlook Rules
In all Outlook versions (including Outlook 2013) you can run any suitable utility right from your rules using VBA script. This script can be generated automatically by ReliefJet Essentials. Just copy-paste the script to the script editor and voila! The utility is now a part of your Outlook rule.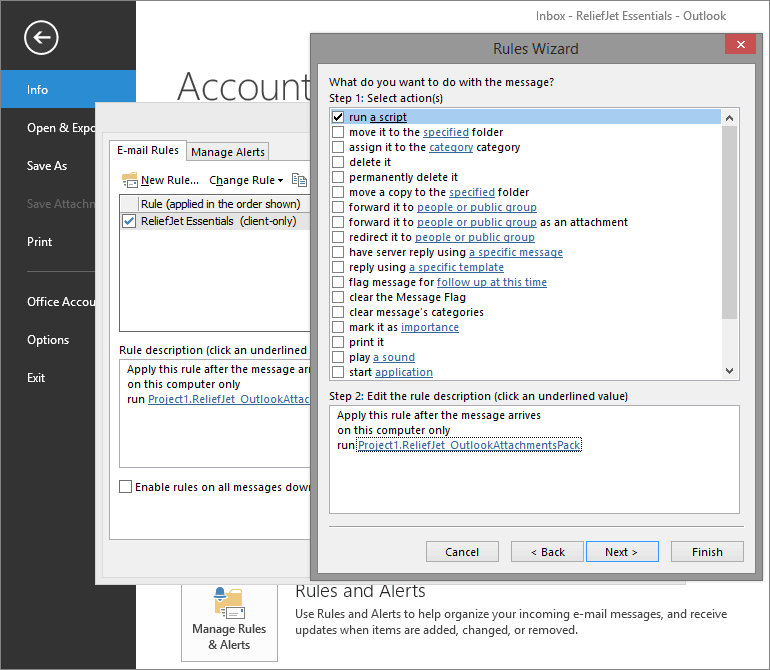 In Outlook 2010/2007, it is possible to select perform custom action in Outlook Rules Wizard's Step 1 and choose ReliefJet Essentials as an action to be performed. After that you will be able to select any appropriate utility to be run as a part of this rule.
Important! If you don't see the run a script and perform custom action in the list of available rule actions, please read the Integrating with Outlook rules help section.
Please note: integration via custom actions is available only if you installed ReliefJet Essentials for all users as administrator. Installation without administrator's rights for current user only leads to unavailability of this feature.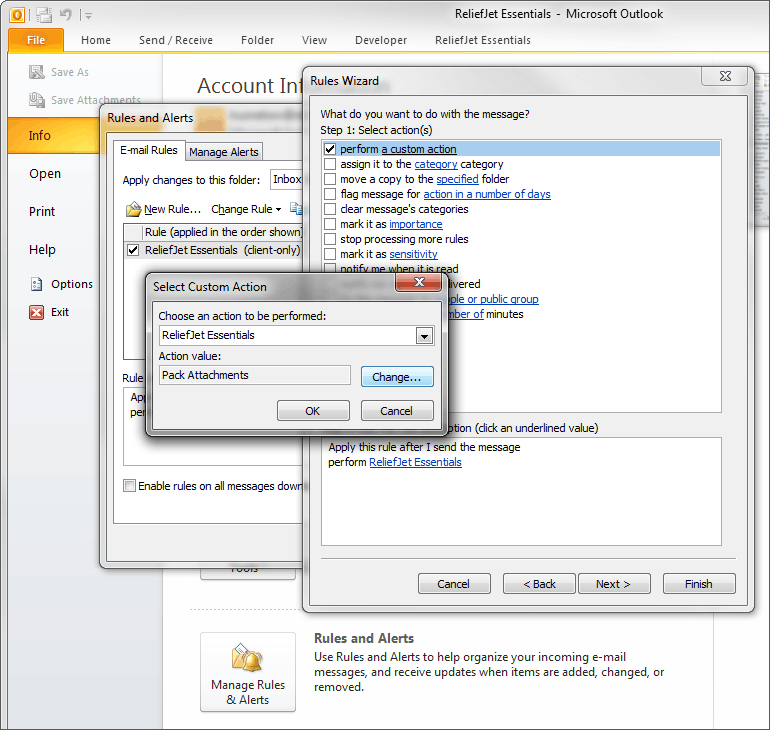 ReliefJet Essentials easily integrates with Outlook Rules by providing a Custom Action and VBA
Described features are part of ReliefJet Essentials for Microsoft Outlook: fast and reliable productivity solution for Microsoft Outlook. Besides them ReliefJet Essentials provides many other useful features that significantly simplify every Outlook user's life. An Outlook add-in and a command line utility are also provided along with the standalone application.