Quick Tweaks
A set of advanced settings will help you speed up and simplify your daily work with Microsoft Outlook. ReliefJet Quick Tweaks allow you to automate routine tasks you have to do manually during the workday. Learn how to save time and expand Outlook capabilities with our add-in. Discover the indispensable tools of Quick Tweaks and the free ReliefJet Tweaker for Outlook. Use the most helpful ones to improve your productivity.
Automatically marks deleted messages as read.
Minimizes the main Outlook window instead of exiting the program when you click the Close (X) button.
Copies any attachment names to the clipboard.
Increases the size of small Outlook dialog boxes.
Sets the default zoom for message windows.
Enforces the format of reply messages to HTML, Plain Text, or RTF.
Automatically converts Microsoft Word documents to Adobe PDF.
Automatically enables editing mode in opened messages.
Bonus free features:
Unlocks messages stuck in your Outbox.
Outlook Tweaker to reveal hidden options of Microsoft Outlook.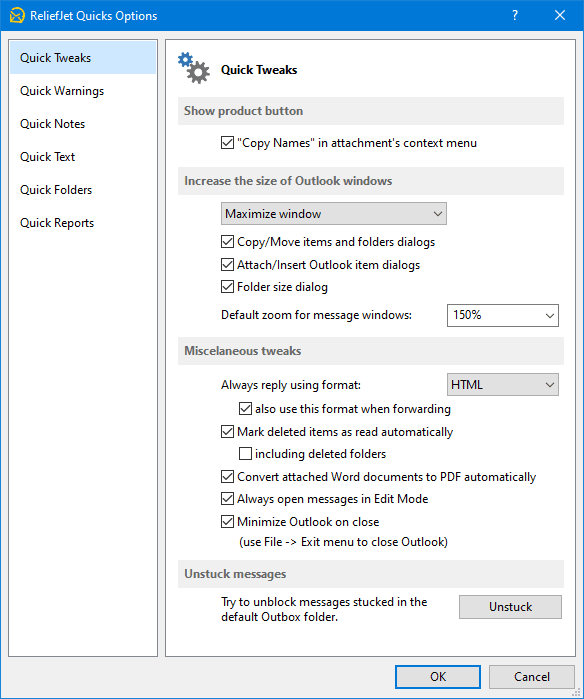 To activate the advanced Quick Tweaks settings for Outlook, click Quicks Options on the ReliefJet tab of the Outlook ribbon. On the Quick Tweaks pane, enable or disable the options you need.
Minimize Outlook instead of closing it when you click the Сlose button
By default, clicking the Close (X) button immediately exits Outlook. However, it is easy to accidentally click this button when closing other active windows. When this happens, you have to wait for Outlook to start again in the middle of a workflow. The option saves you from having to monitor which maximized window you are constantly closing.

Automatically mark all deleted messages as read
Email users often delete unwanted incoming emails without reading them. Additionally, marking items as read when viewed in the Reading Pane can be turned off in Outlook. When you delete such messages, they go to the Deleted Items folder as unread. The unread message counter on the Deleted Items folder may be annoying. Moreover, unread deleted messages themselves can cause a genuine inconvenience. For example, they clutter the search results for unread emails in the mailbox. The add-in quickly solves these problems. Once this setting is activated, all deleted messages and other Outlook items automatically become read when they get to the Deleted Items folder.
Convert attached Word documents to PDF automatically
Business emailing rules or company policies often require that documents you send are in Adobe PDF format. The extra benefit of using PDF attachments is recipients can easily open .pdf files on any device, including smartphones. This option allows you to automatically convert .doc and. docx files to. pdf when being attached to Outlook emails, wasting no time reopening them and exporting from Word to PDF.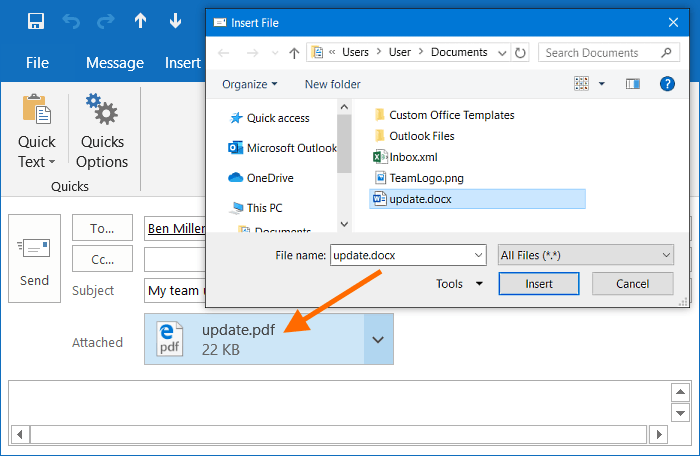 Customize the Outlook message format
Change the default Outlook message format for replies and forwards automatically. This can be Plain Text, HTML, or Rich Text format.
Zoom message windows automatically
Another problem is the need to zoom the message text every time you open emails in a separate window. To make it easier to read emails on high-definition displays, set a suitable zoom for the message text. The customized zoom factor persists even after you restart Outlook or reboot the computer. Set the zoom level once and never think of it again.
Resize Outlook dialogs
One of the Outlook inconveniences for many users is the tiny dialog boxes that cannot be enlarged. The Quick Tweaks add-in automatically resizes or maximizes the Copy and Move Items and Folders, the Attach and Insert Outlook Item, and the Folder Size dialogs. This improves visibility and allows you to view the necessary data comfortably.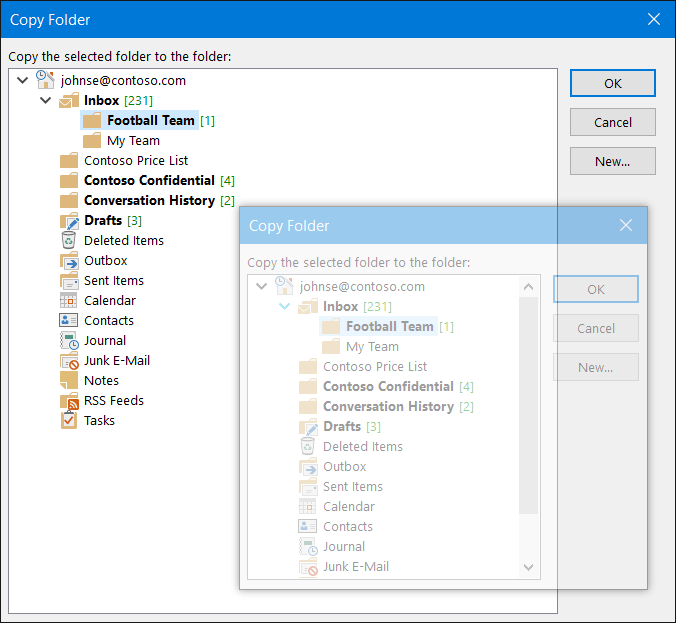 Open messages in Edit Mode
To turn the edit mode on automatically for emails that open in a separate window, activate the Always open messages in Edit Mode option. This enables you to immediately edit the subject and text of sent and received messages with no extra steps.
Copy attachment names in Outlook messages
Sometimes, Outlook users need to copy a list of attachment names quickly and accurately to the Windows clipboard for pasting it later. This can be useful in communication with colleagues by email and in messengers, and when preparing documents. The Copy Names option allows you to add this command to the attachments' context menu:
Activate the setting in the

Quicks Options

.
Copy the names of one or more selected attachments from emails to the clipboard using the context menu. Then paste the attachment names into the message body or any other text.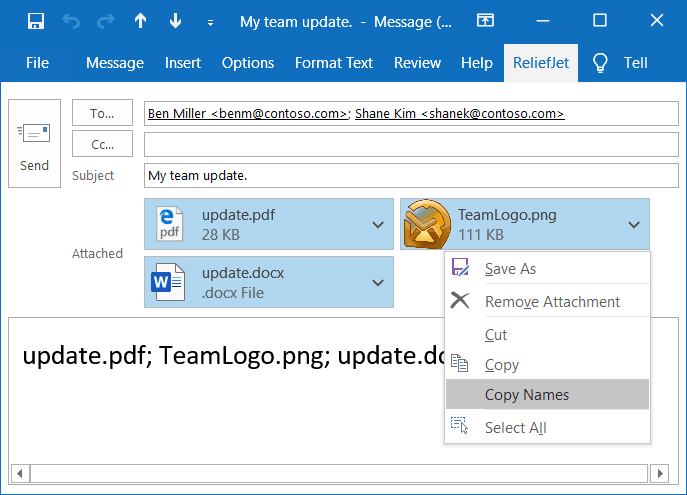 Unblock messages stuck in Outlook Outbox
Stuck Outbox emails are a common problem many Outlook users face. These messages cannot be deleted using Outlook; they are annoying and interfere with your work.
Unsent messages can remain in your Outbox for many reasons. Here are the most common ones:
Too large attachments that stop or slow down sending.
Incorrect send and receive settings.
Various Microsoft Outlook failures.
Errors in other programs and add-ons used with Outlook.
Blocking by antivirus software.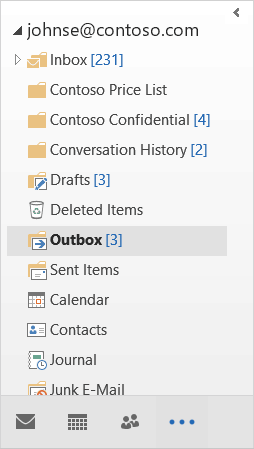 We suggest using the free Unstuck feature to unblock messages stuck in Outbox. If the error is fixable, the program will try to fix it and move the unlocked messages to the Drafts folder.
Described product is a part of ReliefJet Quicks family: fast and reliable productivity solution for Microsoft Outlook. Besides them ReliefJet Quicks provides other useful tools that significantly simplify every Outlook user's life.
Purchase ReliefJet Quicks for Outlook
For your convenience, we teamed up with PayPro Global to provide a secure and reliable platform for selling our software products online. The whole ordering process is supported by PayPro Global, who handles all transactions details. Your private data is 100% safe, as PayPro Global complies with the latest online security standards.
More than 70 traditional, international and local payment methods available including all major Debit and Credit cards, eWallets (PayPal, Alipay, Webmoney, etc.), Wire Transfers, and many more. All specified prices exclude VAT.
ReliefJet Quicks Bundle
One Product
Support and Updates
Product support
2 Years
1 Year
Priority support
Yes
No
Free updates
1 Year+
Minor fixes
Free remote assistance
Yes
No
Price Per License
1 license purchase
$49.95


($9.99 per product)

$14.95


($14.95 per product)

2-9 licenses purchase
$34.95
$14.95
10+ licenses purchase
$19.95
$9.95
Available Products
All ReliefJet Quicks products in a single package.
Download
Buy Now
Buy Now
Site License, Upgrade Options and more purchase details...
Our clients: