Backup Outlook and Exchange Folders
The utility performs a one-time or periodic backup of your mailboxes, public folders, PST data files, and other Outlook/Exchange Server storages. The utility uses MSG format for archiving; it is native and the most complete format for storing Outlook messages, contacts, appointments and meetings, tasks, notes, journal entries, documents and other items.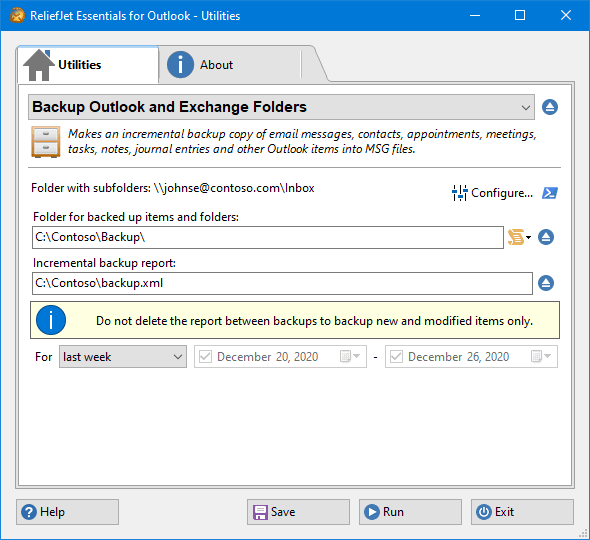 Regular backups of your email, contacts, calendars, and other Outlook data is required. It provides the reliability and accessibility of information in case of various failures. Such failures may be very different in nature, from damage due to software errors and network outages to the hard drive and other storage system failures. You should always remember that PST files are unreliable, often fail, and become broken. Even cloud and server-side technologies do not prevent you from accidentally deleting Outlook folders and items, which are difficult or impossible to restore.
Unlike other solutions, our backup utility uses a simple and reliable format to store backups of your important data. It creates the original Outlook/Exchange Server folder structure on your disk drive or network share. Saved MSG files contain additional data for easy browsing and searching, using a standard and familiar environment, such as Windows Explorer. In general, the backup looks almost like your Outlook mailbox. This backup copy is much more reliable than any backup methods using a single data file. In case of damage to some of the files, the rest will remain available.
One of the key advantages of our utility is the ability to archive your data incrementally. Simply specify the location of the CSV backup report file, and the tool will utilize this file to copy only new and modified items next time. This will prevent the need to make a full backup copy every time, because full backup takes a lot of time and computer resources. The utility is very easy to use. Select Outlook/Exchange Server folders for backup, specify a folder on the disk or network share for backup copy, and the location of the report file. In the future, just click "Run", and the utility will do the rest for you. The report file can be opened in Excel, and you will see the results of the last backup.
Periodic archiving, according to the schedule, is available to Professional Edition owners. To use it, create a task in a Windows Scheduler, and specify the desired time and frequency of backups.
Described features are part of ReliefJet Essentials for Microsoft Outlook: fast and reliable productivity solution for Microsoft Outlook. Besides them ReliefJet Essentials provides many other useful features that significantly simplify every Outlook user's life. An Outlook add-in and a command line utility are also provided along with the standalone application.
Related Utilities: Import MSG to Outlook, Export Outlook to MSG, Export Messages to EML, Export Messages to Text, Export Messages to MBOX, Export Contacts to vCard.
Purchase ReliefJet Essentials for Outlook
For your convenience, we teamed up with PayPro Global to provide a secure and reliable platform for selling our software products online. The whole ordering process is supported by PayPro Global, who handles all transactions details. Your private data is 100% safe, as PayPro Global complies with the latest online security standards.
More than 70 traditional, international and local payment methods available including all major Debit and Credit cards, eWallets (PayPal, Alipay, Webmoney, etc.), Wire Transfers, and many more. All specified prices exclude VAT.
Our clients: