Delete Empty Folders
After you migrate and backup your old email messages, contacts, calendars, tasks, and other Outlook items, empty folders appear. During the processes of backup and migrating data between mailboxes and Outlook data files, Exchange Server and Office 365, Exchange public folders, there are also empty folders. In addition, complex empty folder structures can remain when intensively using Exchange Server and Office 365 shared mailboxes and public folders. Deleting unnecessary empty folders manually is a complex task that requires attention and leads to mistakes. Our utility will delete empty folders automatically.
Key benefits of the utility:
Automatically and safely removes all empty folders in the selected Outlook, Office 365, and Exchange Server folders and public folders.
Can permanently delete empty folders or safely move them to "Deleted Items", retaining the original folder structure.
Analyzes the contents of all subfolders and deletes only those that contain no Outlook items.
Supports running from the command line, allowing you to delete empty folders by schedule or from batch files and scripts.
To remove all empty folders, including subfolders, in the selected Outlook folders, mailboxes, and Exchange Server public folders, select the root folders then run the utility. The program will analyze the structure of all selected folders, find all hierarchies that contain no Outlook items, and delete them. The deletion can be safe, moving empty folders with subfolders to "Deleted Items", and can be permanent, if necessary.
The command line application allows you to delete empty folders in your scripts, batch files, scheduled in Windows Task Scheduler, and other scenarios.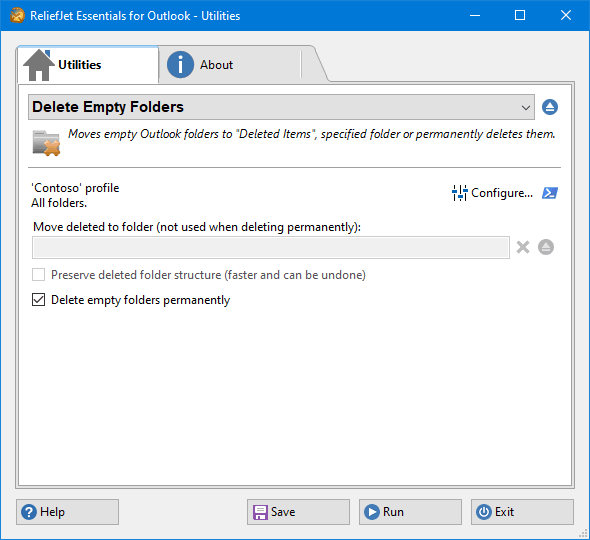 Described features are part of ReliefJet Essentials for Microsoft Outlook: fast and reliable productivity solution for Microsoft Outlook. Besides them ReliefJet Essentials provides many other useful features that significantly simplify every Outlook user's life. An Outlook add-in and a command line utility are also provided along with the standalone application.
Related Utilities: Delete Subfolders, Delete Folders, Merge Folders, Folder Report.
Purchase ReliefJet Essentials for Outlook
For your convenience, we teamed up with PayPro Global to provide a secure and reliable platform for selling our software products online. The whole ordering process is supported by PayPro Global, who handles all transactions details. Your private data is 100% safe, as PayPro Global complies with the latest online security standards.
More than 70 traditional, international and local payment methods available including all major Debit and Credit cards, eWallets (PayPal, Alipay, Webmoney, etc.), Wire Transfers, and many more. All specified prices exclude VAT.
Our clients: