Import PST to Outlook
You might need to use a special program if you want to import one or more PST files to Outlook, Office 365, or Exchange Server. This utility connects the PST file to the selected Outlook profile and copies the data from the connected data file to your chosen location. You will require it if you have a lot of PST files, which you need to import by one or more users, or you often have to deal with such problems.
Why import PST files?
If you want to copy or move Outlook data from one account to another.
If you want to copy or move Outlook data from one computer to another.
If you want to copy or move Outlook data between local folders, Exchange Server, Office 365, Gmail or other IMAP/POP3 accounts.
You can import PST files:
to Office 365 and Exchange Server mailboxes;
to archive and shared Office 365 and Exchange mailboxes;
to Office 365 and Exchange Public Folders;
to any other mailboxes, data files, and Outlook stores.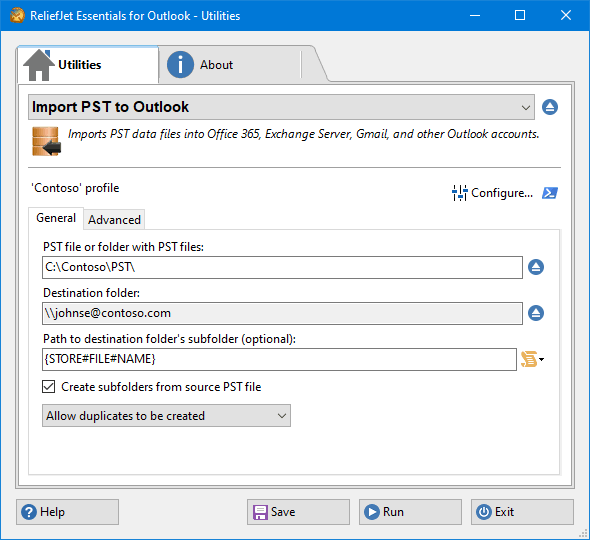 Import email and other Outlook items with attachments
This utility imports the mail carefully from PST files with all message attachments allowing you to migrate your mailboxes correctly to any Outlook account. The PST file data, such as messages, contacts, appointments and meetings, tasks, notes, and journal entries, will be copied correctly to a new location, including any attachments and pictures.
Migration of PST files to Office 365 is completely safe
When copying PST files to Office 365 accounts, you will need a working Outlook profile. At the same time, you do not need to enter your account credentials into third-party programs, much less specify them on an external service. If you import PST files into your account, you will only need the current user permissions. If you import PST files into other users' mailboxes, you will need the Full Access rights to the corresponding mailboxes.
Skip the previously imported items
If you have already imported PST files and want to re-import the PST file with the updated data, you can optionally skip the already imported items. This way, no duplicates will appear on the new import.
Additional import filters
You can set additional filters when copying data from PST files to Outlook mailboxes. Moreover, additional filters can limit the date range, the type of Outlook items (messages, contacts, tasks, calendar items, notes, journal entries, etc.), and also ignore the "Deleted Items" folder. By using these filters, you will significantly reduce the time to transfer data from the PST file and save space in your mailbox.
Use macros when importing PST to Outlook
The program imports one PST file or folder with PST files. If you use macros, the utility can create a new folder structure during import. For example, you can import each PST file into a separate folder or automatically create folders by year, sender and recipient addresses, folder names, parts of message subjects, or any other fields present in the Outlook items being imported.
Import PST files into Office 365 and Exchange Public Folders
You can import PST files into the Public Folders of your Office 365 or Exchange Server account. You can select Public Folder as a destination to copy data from PST files. It is also possible to import PST files into shared mailboxes connected to the specified Outlook profile.
Import PST files into Archive mailboxes
This tool allows users and administrators to import PST files into Exchange and Office 365 Online Archive mailboxes. You can select any folder in the archive mailbox as a destination folder where you want to create the required folder structure from the imported PST files. For example, by using macros, you can automatically sort mail by year.
Batch import of PST files into Outlook, Office 365 or Exchange
You can import PST files to Outlook, Office 365, or Exchange Server using the Windows command line console application. This app allows you to create complex scenarios to migrate PST files into user mailboxes at once. These tasks can be run these tasks on a schedule using the Windows Task Scheduler. It is useful to list PST files in advance, and indicate where to import them and with what parameters in the command line. You can specify the original location of PST files, which mailboxes and which folders you want to import them to, for which users, for what period, what to do with duplicates and other settings.
Fast PST import using parallel execution
If you want to import PST into mailboxes or shared and Public Folders of your Outlook, Office 365, or Exchange accounts, the command line app will help you accomplish this task. This app allows you to run multiple copies of the program simultaneously. All running programs execute separately and can work in parallel to quickly complete the job.
What is an Outlook PST data file?
The PST file format is used by Outlook to store its data, such as messages, contacts, tasks, calendars, notes, documents, journal records, and others. In order to migrate your data, it is not enough to just copy the file, you need to properly copy everything that it contains.
Described features are part of ReliefJet Essentials for Microsoft Outlook: fast and reliable productivity solution for Microsoft Outlook. Besides them ReliefJet Essentials provides many other useful features that significantly simplify every Outlook user's life. An Outlook add-in and a command line utility are also provided along with the standalone application.
Related Utilities: Merge Stores, Merge Folders, Export Outlook to PST, Create/Open/Close PST File.
Purchase ReliefJet Essentials for Outlook
For your convenience, we teamed up with PayPro Global to provide a secure and reliable platform for selling our software products online. The whole ordering process is supported by PayPro Global, who handles all transactions details. Your private data is 100% safe, as PayPro Global complies with the latest online security standards.
More than 70 traditional, international and local payment methods available including all major Debit and Credit cards, eWallets (PayPal, Alipay, Webmoney, etc.), Wire Transfers, and many more. All specified prices exclude VAT.
Our clients: