Import EML to Outlook
This utility imports EML files into Outlook and Exchange Server folders and mailboxes. It supports all major Outlook account types: Office 365, IMAP (Gmail), POP3, Exchange, Outlook.com, as well as PST data files and Exchange Public Folders. When you import messages from EML files to Outlook, the utility retains the original folder structure, message headers, formatting, attachments.
If you are migrating to Outlook from another email program and want to keep your email archive, you need to move your existing mail database to Outlook. Different email clients store their messages in different formats. For example, Outlook stores messages locally in PST and OST data files. At the same time, Windows Live Mail or Apple Mail use EML and EMLX files. Most other email software can export messages to EML format.
What is EML format?
The EML format is a popular way to back up email as well as transfer messages between different email programs and systems. For example, EML files can be retrieved from Mozilla Thunderbird, Windows Live Mail, Outlook Express, Mac/Apple Mail, IncrediMail, Entourage, Eudora, and most other email clients. Because these programs cannot directly export email messages to Outlook, the EML format is suitable for migrating your data.
Why import EML files into Outlook?
Outlook is not just an email client. It is a modern organizer with contacts, tasks and calendar. By switching from an outdated email client to Outlook, your productivity will increase. It's much more convenient to work with email in Outlook than with individual EML files moved from another email program. In Outlook, you can search for messages, save contacts in shared lists, assign tasks to yourself and other users, work with calendars, open attachments, and do many other jobs better and faster.
Importing messages from EML files into Outlook significantly improves the reliability of your mail storage. If your Outlook is connected to Office 365 or Exchange Server, the messages created will be stored on the server and not on the local disk or external media after uploading EML files. The email servers are subject to increased reliability and security requirements.
How to import EML to Outlook
To import messages from EML to Outlook, just run the utility, and all further work will be done automatically. You may need to select the source folder on your drive or network share and the destination folder in Outlook.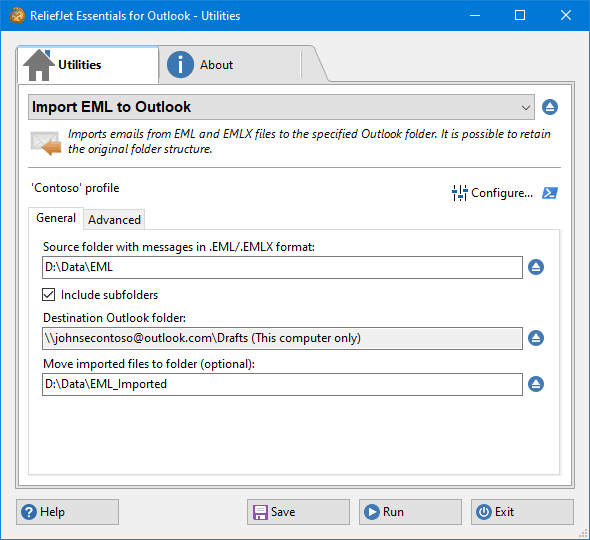 Are there any restrictions on importing data from EML files to Outlook?
There are no limits on the number and size of EML files that can be imported. All possible limits are only set by Outlook. You can import any number of files and folders as many times as you like. The tool supports the EML and EMLX formats of all existing email clients and systems.
The utility imports all data from EML message files. In particular, it saves dates, recipient and sender addresses, subjects, Internet headers, attachments, message texts with HTML markup and picture, etc.
Our utility does not simply import EML files into Outlook - it does it right, unlike many other programs. When importing, all mail headers are saved, including "Blind Carbon Copy" (BCC). What's more, the utility allows you to create an existing folder structure with EML files in Outlook. This enables you to quickly and painlessly move all mail from another email client or backup copy without losing data and folder structure.
Additional filters allow you to import EML files selectively. For example, you can only import messages with or without attachments and limit the size of the files being imported. Successfully imported EML files can be automatically moved to another folder on the disk, which prevents duplicate messages from being generated when you run the utility again on the same source folder.
How to import EML files periodically into Outlook on a scheduled basis?
The command line app included in the product and Windows Task Scheduler are used to periodically import email messages from EML to Outlook on schedule. You just need to set up a schedule for launching the utility automatically, using familiar built-in Windows tools. As a benefit, you don't need to manually log in to user account to import EML into Outlook by schedule. This way makes it possible to use the utility in a variety of scenarios for automatically restoring or copying mail of many users from EML files.
How to import EML to Outlook from the command line?
The program provides the ability of mass-importing messages from EML to Outlook using scripts, batch files, Task Scheduler, PowerShell, and other automation tools. For that, use the command line app that is part of the product. A command line will help you to implement complex email migration scenarios. The automatic processing of multiple mailboxes and Office 365/Exchange Server Public Folders will be much faster when running multiple command line apps simultaneously. At the same time, a standalone launcher app imports EML/EMLX files into Outlook/Office365/Exchange without having to start Outlook.
Importing messages from EML files is often the only way to transfer mail from other email systems to Outlook. By moving all your mail to Outlook, you'll be more productive and avoid unnecessary errors. Use the command line app to import EML/EMLX files into users' mailboxes as a simple and reliable way for email migration of any scale.
Described features are part of ReliefJet Essentials for Microsoft Outlook: fast and reliable productivity solution for Microsoft Outlook. Besides them ReliefJet Essentials provides many other useful features that significantly simplify every Outlook user's life. An Outlook add-in and a command line utility are also provided along with the standalone application.
Related Utilities: Export Messages to EML, Import MSG to Outlook.
Purchase ReliefJet Essentials for Outlook
For your convenience, we teamed up with PayPro Global to provide a secure and reliable platform for selling our software products online. The whole ordering process is supported by PayPro Global, who handles all transactions details. Your private data is 100% safe, as PayPro Global complies with the latest online security standards.
More than 70 traditional, international and local payment methods available including all major Debit and Credit cards, eWallets (PayPal, Alipay, Webmoney, etc.), Wire Transfers, and many more. All specified prices exclude VAT.
Our clients: