Auto-Complete Files Report
Even if you lost all of your Outlook contacts, mailbox is unavailable, or PST data file is corrupted, there is still a way to restore some addresses. Each time you send a message, Outlook stores message recipients in AutoComplete Lists. These lists are used to fill the recipients into Outlook email messages quickly.
This report will help to get a list of contacts from the Auto-Complete List files. In Outlook 2007 and below, Auto-Complete Lists are stored in NK2 files. In Outlook 2010 and higher, Auto-Complete Lists are stored in mailboxes and PST files, and in the DAT files for compatibility with older applications. Out of all these files, you can get a list of contacts, names and email addresses. You can save this report to a CSV file and then open it for viewing in Excel. By default, the report uses the standard Outlook data folder and shows how many items are in the AutoComplete files found. In a detailed mode, the report displays all contacts stored in each file. It shows name, email (including X.500), and other fields for each contact.
You can use the command line to get contacts from AutoComplete cache files, which are available on the local network. You can also write the required scripts and batch files to automate the process.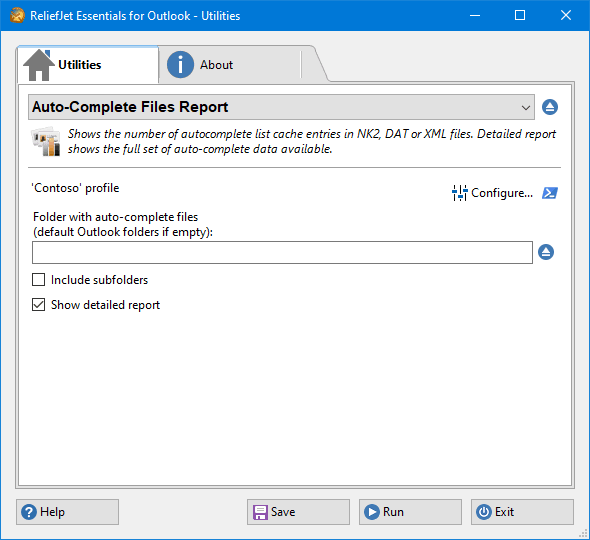 Described features are part of ReliefJet Essentials for Microsoft Outlook: fast and reliable productivity solution for Microsoft Outlook. Besides them ReliefJet Essentials provides many other useful features that significantly simplify every Outlook user's life. An Outlook add-in and a command line utility are also provided along with the standalone application.
Related Utilities: Auto-Complete Lists Report, Import Auto-Complete List, Import Contacts from Auto-Complete Files.
Purchase ReliefJet Essentials for Outlook
For your convenience, we teamed up with PayPro Global to provide a secure and reliable platform for selling our software products online. The whole ordering process is supported by PayPro Global, who handles all transactions details. Your private data is 100% safe, as PayPro Global complies with the latest online security standards.
More than 70 traditional, international and local payment methods available including all major Debit and Credit cards, eWallets (PayPal, Alipay, Webmoney, etc.), Wire Transfers, and many more. All specified prices exclude VAT.
Our clients: