Export Master Category List
ReliefJet Essentials has many advantages over OutlookFreeware.com Utilities including the following:
| Feature set | OutlookFreeware Utilities | ReliefJet Essentials |
| --- | --- | --- |
| Fast and easy to use Outlook add-in | Yes | Yes |
| Standalone launcher desktop application | Yes | Yes |
| Allowed to run in domain enviroment | No | Yes |
| Ability to save configuration and results | No | Yes |
| Selecting folders with subfolders | No | Yes |
| Working with multiple Outlook profiles, accounts and PST files | No | Yes |
| Integration with Outlook rules | No | Yes |
| All available utilities in one package | No | Yes |
| Product support | Community forum | Yes |
| Product documentation | Web site content | Online Help and PDF |
Categories in Microsoft Outlook make it easy to search for and group related items. Once you assign a category to a group of related items, such as messages, contacts, appointments, tasks, and notes, you can easily track and organize them. You can also assign multiple categories to a single item. Starting with Microsoft Outlook 2007, color categories allow you to make their use even more visible.
For ease of use, all categories in Microsoft Outlook are represented by a single list, which is called the Master Category List. You can edit it with Outlook, but there is no way to export or import the list. If you do not periodically make a backup copy of your Master Category List, you may lose the list completely when you reinstall the mail program or when it fails. In addition, you cannot migrate the Master Category List to another computer by using Outlook built-in features. When editing categories, you can manually list a text file or table, and then restore the master list of categories from this file manually. However, it is inconvenient, time-consuming and fraught with errors and mistakes.
This utility allows you to save categories from the Outlook Master Category List to a text file in XML format. After you save this file, you can edit it in any text editor, even Windows Notepad. This is useful when working with large category lists and allows you to add categories from other data sources or use the list in other programs. The utility will automatically detect the location of the Master Category List in the selected Outlook profile. If you want to save category lists from additional mailboxes and PST files connected to your profile, use utility to export all Outlook category lists.
To export or backup the Master Outlook Categories list, specify the desired XML file name on your disk or network share and run the utility. Set the option for saving category colors if you need them. After execution, you will see a report on how many categories were saved and from where. To migrate the Outlook Master Category List from the resulting XML file to another mailbox, computer, or to restore the backup, use the utility for importing the Master Category List to Outlook.
For automatic category list processing of multiple users, synchronization category lists between mailboxes and PST data files, and using the utility in your batch files and scripts, use the command line capabilities.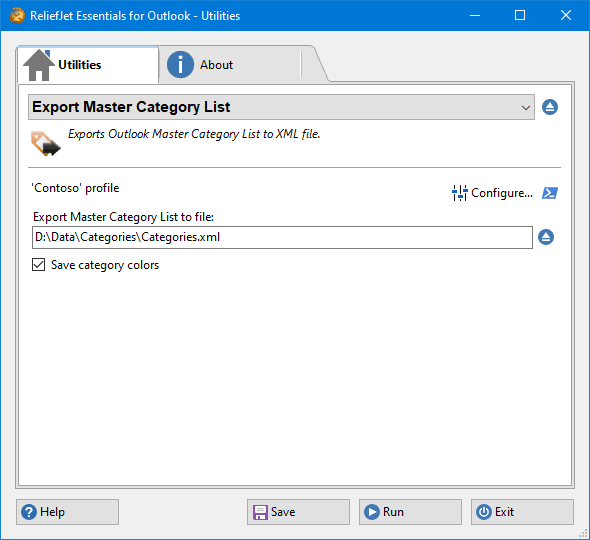 Described features are part of ReliefJet Essentials for Microsoft Outlook: fast and reliable productivity solution for Microsoft Outlook. Besides them ReliefJet Essentials provides many other useful features that significantly simplify every Outlook user's life. An Outlook add-in and a command line utility are also provided along with the standalone application.
Related Utilities: Import Master Category List, Export All Master Category Lists, Export Categories from Outlook Items.
Purchase ReliefJet Essentials for Outlook
For your convenience, we teamed up with PayPro Global to provide a secure and reliable platform for selling our software products online. The whole ordering process is supported by PayPro Global, who handles all transactions details. Your private data is 100% safe, as PayPro Global complies with the latest online security standards.
More than 70 traditional, international and local payment methods available including all major Debit and Credit cards, eWallets (PayPal, Alipay, Webmoney, etc.), Wire Transfers, and many more. All specified prices exclude VAT.
Our clients: