Pack Attachments
The utility packs attachments in messages, appointments and meetings, contacts, tasks, notes, journal entries, and other Outlook items to ZIP archives. It saves space in your mailboxes, PST data files, Exchange Server public folders, and other storages.
Over time, mailboxes and data files grow in size. Sooner or later, these sizes reach the limits in which Outlook beginning to work slowly and unreliably, or stops working at all. Many organizations and webmail services apply restrictions on mailbox sizes, and they just stop working when sizes reach their limits. The main source of these problems are attachments. Most often, attachments take much more space than the e-mail messages or other Outlook items. You should take action to reduce the amount of data in your mailbox in a timely manner. The easiest way to do this, without deleting emails, is to zip attachments.
Our utility allows you to automatically compress attachments in the selected Outlook and Exchange Server folders into ZIP archives. It is the most common and popular format supported by all systems. You can specify which types of attachments or what attachment names you need to pack and what type you don't need to pack. You can compress attachments in Outlook, items of the specified types for a certain period of time. Utility can zip each attachment into a separate archive or compress all attachments in a single ZIP archive, saving even more valuable space.
Integration with Outlook rules significantly simplifies the process and allows you to configure automatic attachment compression in all incoming e-mail messages. Configure the utility once, and you no longer have to think about this important procedure. The program will do everything for you. Professional Edition's command line will help compress attachments in specified mailboxes and Exchange Server public folders, as well as PST data files using the batch mode.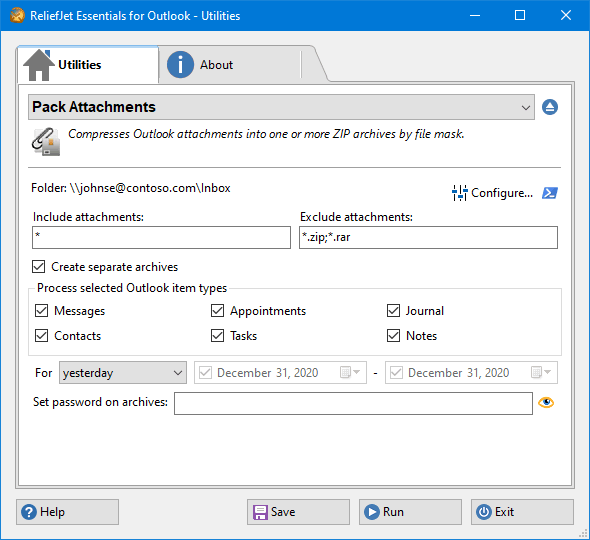 Described features are part of ReliefJet Essentials for Microsoft Outlook: fast and reliable productivity solution for Microsoft Outlook. Besides them ReliefJet Essentials provides many other useful features that significantly simplify every Outlook user's life. An Outlook add-in and a command line utility are also provided along with the standalone application.
Related Utilities: Unpack Attachments, Replace Attachments with Links.
Purchase ReliefJet Essentials for Outlook
For your convenience, we teamed up with PayPro Global to provide a secure and reliable platform for selling our software products online. The whole ordering process is supported by PayPro Global, who handles all transactions details. Your private data is 100% safe, as PayPro Global complies with the latest online security standards.
More than 70 traditional, international and local payment methods available including all major Debit and Credit cards, eWallets (PayPal, Alipay, Webmoney, etc.), Wire Transfers, and many more. All specified prices exclude VAT.
Our clients: