Replace Attachments with Links
This utility replaces file attachments in email messages, appointments, contacts, tasks, and other Outlook items with links. It moves attachments to a folder on your computer or network share and creates links referring to the saved files in your messages. The links appear in the usual place – on the attachments panel, and you can open them as normal attachments. Such replacement is absolutely safe: you can put the attachments back at any time using the Restore Attachments from Links utility.
Free space in Exchange Server mailboxes and Outlook data files is a valuable resource. Most companies restrict user space, and when it runs out, you can't send and receive email messages any more. The maximum size of Outlook data files is also limited. Outlook works with large PST files unreliably, frequently hangs, and crashes. This leads to file structure corruptions and losing important data.
Our utility allows you to free up space in mailboxes and Outlook data files. It is easy to install and use. Flexible settings allow you to replace attachments with links exactly as you need. You can save attachments, only of certain types, by mask. You can overwrite existing files or rename them automatically. The utility can save attachments to disk, creating the same folder structure you are using in Outlook. If necessary, you can limit the types of processed Outlook items and the date range. Selecting the network share as the destination folder enables access to attachment files of other users. This makes working with files easier, centralizes storage of attachments in a safe, secure dedicated place on file servers and network resources.
An important advantage of this utility is the ability to replace attachments automatically with links in incoming mail, thanks to product integration with Outlook rules. Command line support allows you to use the utility in batch files, scripts and scheduled tasks.
Please note! You may find that after replacing your attachments with links, you can not click on them in email messages any more. To fix it, you need to allow access to linked attachments in Outlook. Free ReliefJet Tweaker included in Quick Tweaks for Outlook will help you to unlock the blocked links: just set the Allow linked attachments option, click OK, and restart your Outlook.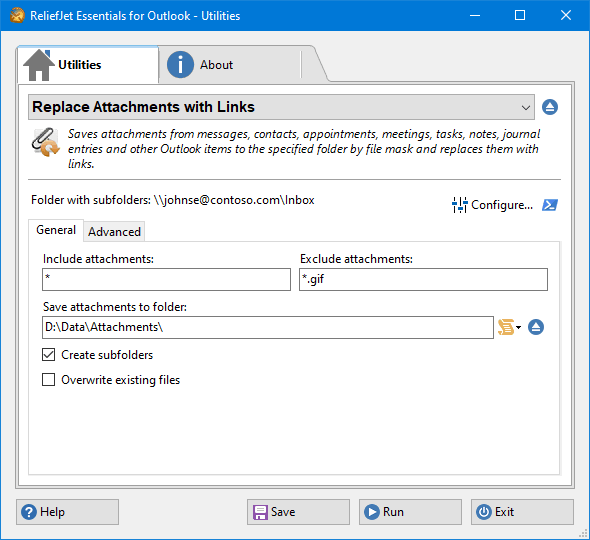 Described features are part of ReliefJet Essentials for Microsoft Outlook: fast and reliable productivity solution for Microsoft Outlook. Besides them ReliefJet Essentials provides many other useful features that significantly simplify every Outlook user's life. An Outlook add-in and a command line utility are also provided along with the standalone application.
Related Utilities: Restore Attachments from Links, Update Linked Attachments, Pack Attachments.
Purchase ReliefJet Essentials for Outlook
For your convenience, we teamed up with PayPro Global to provide a secure and reliable platform for selling our software products online. The whole ordering process is supported by PayPro Global, who handles all transactions details. Your private data is 100% safe, as PayPro Global complies with the latest online security standards.
More than 70 traditional, international and local payment methods available including all major Debit and Credit cards, eWallets (PayPal, Alipay, Webmoney, etc.), Wire Transfers, and many more. All specified prices exclude VAT.
Our clients: