Find Duplicate Contacts
Find duplicate Outlook contacts and mark them with a flag or categories. Instead of manually comparing similar contacts, do this job quickly and automatically. Automatically searching for duplicate contacts using our program will save you time and eliminate unnecessary errors.
Key utility benefits:
Looks for duplicate contacts in one or more Outlook folders at once.
Searches for the same contacts in any Outlook folders, including Search Folders, Exchange Server public folders, and PST data files.
Assigns specified categories to duplicate contacts or marks them with a flag.
Allows you to specify your own fields for comparing duplicates: name, email address, phone, fax, address, and others. A contact that contains less data will be treated as a duplicate.
You can specify folder priority. When searching, contacts in folders with a lower priority will be considered duplicates.
Recognizes duplicates in the selected Outlook contacts.
Allows you to create multiple configurations (for example, for different contact folders or for different comparison fields) and run the one you want with one click.
Contains a separate application to find duplicate contacts without having to start Outlook and the application to search for duplicates from the command line.
When synchronizing with mobile devices or importing contacts from other applications or web services, you might see duplicate contacts appeared. If you only have a few, you can easily find and delete them manually. However, if you have hundreds or thousands of duplicates, it will be difficult to remove them yourself. It's going to take a long time, and it's easy to make a mistake and remove the useful contacts. This utility simplifies this task by finding and tagging duplicate contacts automatically. You can view the tagged contacts and decide whether to delete them by yourself.
To remove duplicate contacts automatically and to see the number of duplicates in your Outlook contact folders, we have other tools. By using the command line in batch files and scripts, you can mark duplicate contacts in PST files, different Outlook and Exchange Server mailboxes, or do it by a schedule. For example, you can tag duplicate contacts after migration errors or merging of folders and mailboxes.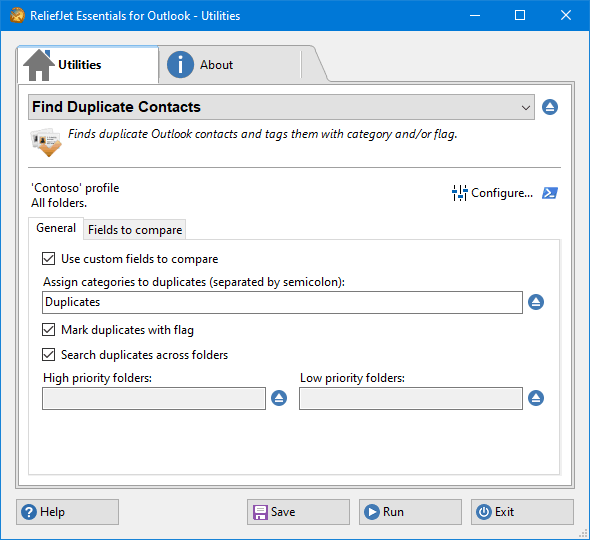 Described features are part of ReliefJet Essentials for Microsoft Outlook: fast and reliable productivity solution for Microsoft Outlook. Besides them ReliefJet Essentials provides many other useful features that significantly simplify every Outlook user's life. An Outlook add-in and a command line utility are also provided along with the standalone application.
Related Utilities: Remove Duplicate Contacts, Find Unused Contacts, Find Duplicate Messages, Find Duplicate Calendar Entries, Find Duplicate Tasks, Find Duplicate Notes, Find Duplicate Journal Entries, Duplicate Outlook Items Report.
Purchase ReliefJet Essentials for Outlook
For your convenience, we teamed up with PayPro Global to provide a secure and reliable platform for selling our software products online. The whole ordering process is supported by PayPro Global, who handles all transactions details. Your private data is 100% safe, as PayPro Global complies with the latest online security standards.
More than 70 traditional, international and local payment methods available including all major Debit and Credit cards, eWallets (PayPal, Alipay, Webmoney, etc.), Wire Transfers, and many more. All specified prices exclude VAT.
Our clients: