Duplicate Outlook Items Report
This utility allows you to check the Outlook mailboxes on identical email messages, contacts, appointments, meetings, tasks and other duplicate Outlook items. After verification, you will receive a complete report on the number of duplicates and the space they occupy. The utility is absolutely safe for your data – it just reports, without altering or deleting your data.
When working with mailboxes and Outlook data files, different failures may occur. For example, when synchronizing, archiving, receiving mail, or copying the data of any kind. As a result, you may get several copies of each message, contact, appointment, meeting, or any other Outlook item. The mailbox may be full of unnecessary duplicates. It is unclear how many and in what folders they are.
This report finds all duplicates in selected Outlook folders. For each item type, you can select the fields to compare. You can specify which fields should be compared or let the utility choose the way to compare automatically. Search for duplicates can be performed in each selected folder separately or in all selected folders, at once, as if all the data are in the same folder. You can specify which folders you consider more important, adding them to the list of folders with high priority. Low-priority folders specify the location of less important data. If you sort all incoming mail into folders, it is convenient to assign the lower priority to the Inbox folder.
A unique feature of the utility is the ability to compare mailboxes: just run the report across folders by assigning high or low priority to one of the mailboxes. Support for the command line allows you to use the utility the centralized reporting on all required Outlook mailboxes, and Exchange Server public folders in your organization.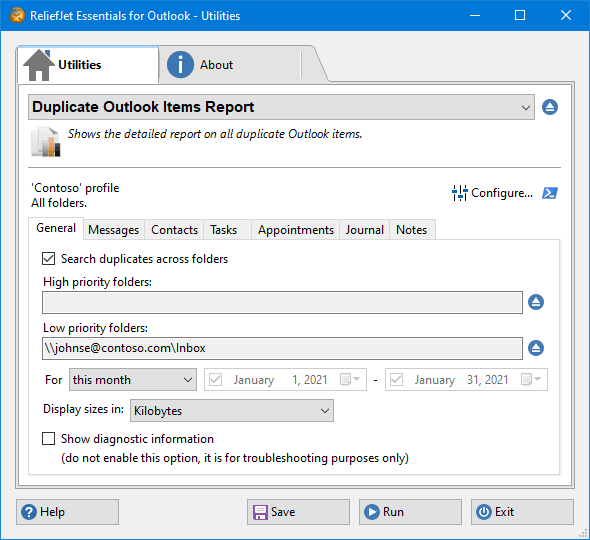 Described features are part of ReliefJet Essentials for Microsoft Outlook: fast and reliable productivity solution for Microsoft Outlook. Besides them ReliefJet Essentials provides many other useful features that significantly simplify every Outlook user's life. An Outlook add-in and a command line utility are also provided along with the standalone application.
Related Utilities: Remove Duplicate Messages, Remove Duplicate Contacts, Remove Duplicate Calendar Entries, Remove Duplicate Tasks, Remove Duplicate Notes, Remove Duplicate Journal Entries, Duplicate Attachments Report.
Purchase ReliefJet Essentials for Outlook
For your convenience, we teamed up with PayPro Global to provide a secure and reliable platform for selling our software products online. The whole ordering process is supported by PayPro Global, who handles all transactions details. Your private data is 100% safe, as PayPro Global complies with the latest online security standards.
More than 70 traditional, international and local payment methods available including all major Debit and Credit cards, eWallets (PayPal, Alipay, Webmoney, etc.), Wire Transfers, and many more. All specified prices exclude VAT.
Our clients: