Convert PST to MSG
This utility converts Outlook items from PST data files to MSG format.
Unlike other formats, converting PST to MSG saves all the properties of Outlook items, with no data loss. This is a convenient format for importing, exporting, and backing up Outlook.
The MSG files produced by this program may contain additional data for easy viewing and searching using the standard Windows Explorer.
What is an Outlook PST data file?
Microsoft Outlook uses the PST format to store messages, contacts, appointments, meetings, tasks, notes, journal entries, and documents.
A folder structure in the PST file contains the above Outlook items.
Data can be located in folders of different types: mail, calendar, contacts, tasks, notes, journal.
PST files hold important properties of Outlook items and folders: mail processing rules, view settings, search folders, etc.
Only users of Desktop Outlook for Windows can open PST files. To access PST file content from other mail programs, you need to convert your PST files to another format.
What is an MSG file?
The MSG file format is used for saving messages, calendar events, contacts, tasks, notes, journal entries, and other Outlook items.
Each MSG file contains all the data for a single Outlook item. For example, for email messages, these are fields such as: subject, sender and recipient addresses, attachments, text and HTML body, categories, follow up flags.
In addition, MSG files contain many other fields, including internal Outlook properties.
Why convert PST to MSG?
There are several reasons for PST2MSG conversion of email messages and other Outlook items:
PST is the format of Outlook mailbox files. This file contains all data, not just email. To share multiple messages, contacts, or appointments, it is more convenient to use the MSG format.
The size of a PST file can reach dozens of gigabytes; it is inconvenient to work with, difficult to store in the cloud, or to move it to another location. Saving data from PST to MSG is an easy way to archive data in parts, in an easy-to-use folder structure.
MSG files retain all data from messages, contacts, calendars, and other Outlook items.
MSG is a convenient intermediate format for mail migration when you need to collect and transfer data from the PST files of different users. When you import the resulting MSG files into Outlook, Exchange, or Office 365, you will get the most accurate result.
Why can't you use online services to convert PST to MSG?
PST files contain your important and confidential data. When you use an online service to convert email from PST to MSG, all your sensitive data is transferred to someone else's server, including private messages, contacts, tasks, and notes. The data is processed on an unknown computer, and you can't control it in any way. Only then can you download the resulting MSG files.
In contrast to online converters, our utility works strictly on your computer. Information from the PST data file is not uploaded anywhere. Your data will not fall into the wrong hands.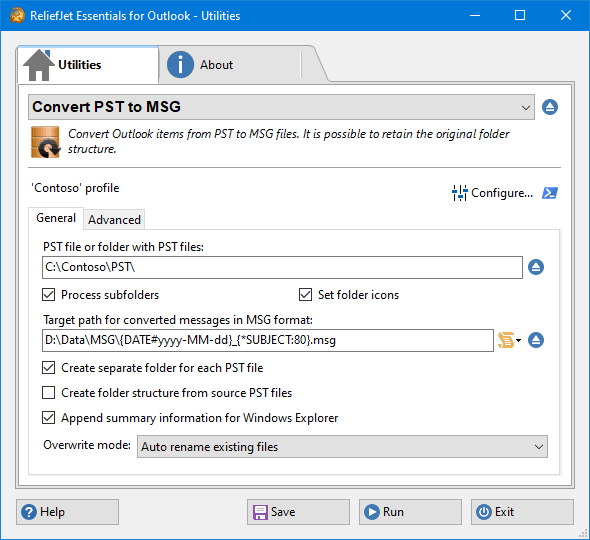 How to convert PST to MSG?
To extract various Outlook items from PST data files to MSG files:
Select the source PST file or the source folder with the PST files and choose the destination folder.
Specify whether to create separate folders for each PST file or create the original Outlook folder structure.
Set additional filters, such as the date range, sent or received message status, and others.
Run the utility and everything else will be done automatically.
When you select the subfolder processing mode, the utility creates the original Outlook folder structure on your disk or network share. These folders contain messages, contacts, notes, and all other Outlook items converted to MSG format.
How to customize file names when saving MSG from PST?
You can select a folder for Outlook MSG files on your disk or network share or specify a template for flexible naming of folders and files.
The utility allows you to flexibly configure the names of resulting folders and MSG files. To do this, you can use macros in the target path. For example, the message subject, the names and domains of the sender or recipients, dates, appointment start and end dates, contact fields, Windows environment variables, and many other values.
Advanced users may want to use regular expressions to extract strictly the necessary parts Outlook item fields in the target folder and file names.
Are there any limits when converting from PST to MSG?
There are no limitations on the number and size of converted PST and received MSG files. You can convert an unlimited number of folders or files as often as you want.
Since MSG is a format for storing Outlook items, these files can hold messages, contacts, tasks, calendars, notes, journal entries, etc. When converting, the utility saves all available fields, not just the basic message fields, as in the case of EML.
How to perform mass PST to MSG conversion?
The program can bulk convert PST to MSG in batch scripts, using PowerShell, Task Scheduler, and other automation tools. To do this, use the command-line utility in the product. If you run several command-line apps at once, the automatic conversion of several PST files to MSG will become much faster due to parallel execution.
To schedule PST to MSG conversion, use the command-line application provided by the product along with the standard Windows Task Scheduler. This allows you to flexibly configure schedule parameters and use the utility in your scenarios even without logging into a user account.
By saving data from Outlook PST files to MSG format, you will get separate files for each Outlook item according to the original folder structure. Afterward, you can use the backup archive or import the resulting MSG files to Outlook, Exchange or Office 365.
Described features are part of ReliefJet Essentials for Microsoft Outlook: fast and reliable productivity solution for Microsoft Outlook. Besides them ReliefJet Essentials provides many other useful features that significantly simplify every Outlook user's life. An Outlook add-in and a command line utility are also provided along with the standalone application.
Related Utilities: Export Outlook to MSG, Convert PST to EML, Convert MSG to PST.
Purchase ReliefJet Essentials for Outlook
For your convenience, we teamed up with PayPro Global to provide a secure and reliable platform for selling our software products online. The whole ordering process is supported by PayPro Global, who handles all transactions details. Your private data is 100% safe, as PayPro Global complies with the latest online security standards.
More than 70 traditional, international and local payment methods available including all major Debit and Credit cards, eWallets (PayPal, Alipay, Webmoney, etc.), Wire Transfers, and many more. All specified prices exclude VAT.
Our clients: