Convert MSG to PST
The utility converts messages, contacts, appointments and meetings, tasks, notes, and other Outlook items from MSG files to PST. From a large number of MSG files in different folders, depending on the settings, you get one or more PST files. This creates the Outlook folder structure of the correct type. You can immediately split the resulting PST files by size, year, or other parameters.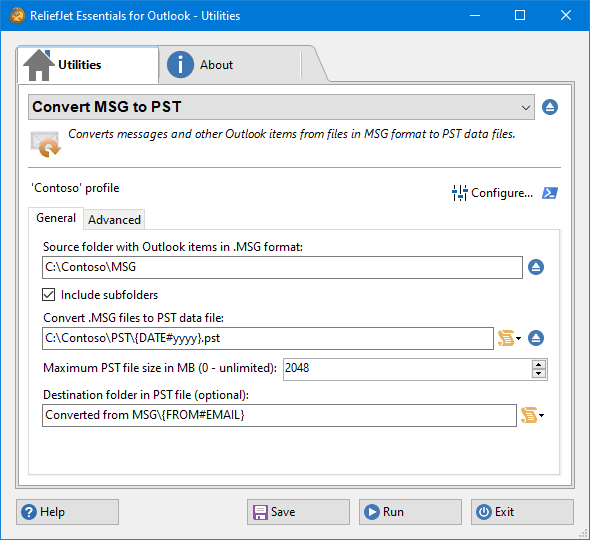 Outlook can use PST and MSG files to store its data, with the difference that the MSG file contains one Outlook item (message, contact, task, etc.) only, and the PST file contains folders of different types that store many Outlook items. After conversion, the resulting PST files can be connected to Outlook using built-in functionality.
The conversion from MSG to PST is similar to importing MSG files into Outlook with slight differences:
When converting from MSG to PST, the utility creates new or opens existing PST files, and an existing mailbox, Exchange public folder, or PST data file is required to import MSG to Outlook.
When converting files from MSG to PST data files, you can use macros in the names of resulting PST files. This allows you to save MSG files to different PST files, depending on the date of the message, the part of the subject, the recipient and sender data, and other properties of the items in the MSG files. You can also use the date, time, and Windows environment variables in PST file names to create flexible sets of PST files.
When converting from MSG files to PST files, you can automatically split PST files by size. The files will be of the desired maximum size and will not require running a separate utility to break PST files into smaller parts.
If you specify an additional destination folder name, a folder with that name will be created in the resulting PST file, and all the converted data will be placed in it. In the name of this folder, you can use the same macros as in file names. Therefore, additional sorting of items by dates, parts of subject, addresses, and other message fields is supported. To get PST files in the same folder structure as in the source folder on the disk or network share, simply leave the name of the additional folder empty. By configuring filters, you can convert only contacts, only messages with attachments, only files smaller than the specified size, and many other options. All images, HTML formatting, attachments, and properties from MSG files will be retained in their original form. During the conversion process, you can move the source MSG files to another folder. This allows you to run the conversion several times with no duplicates appearing in PST files.
You can convert MSG to PST in batch or automatic mode using the command line. The command line utility allows you to convert MSG files to PST on a schedule, use the utility in various migration scenarios, and backup Outlook data.
Described features are part of ReliefJet Essentials for Microsoft Outlook: fast and reliable productivity solution for Microsoft Outlook. Besides them ReliefJet Essentials provides many other useful features that significantly simplify every Outlook user's life. An Outlook add-in and a command line utility are also provided along with the standalone application.
Related Utilities: Import MSG to Outlook, Convert MSG to EML, Convert MSG to HTML, Import PST to Outlook, Remove Attachments from MSG.
Purchase ReliefJet Essentials for Outlook
For your convenience, we teamed up with PayPro Global to provide a secure and reliable platform for selling our software products online. The whole ordering process is supported by PayPro Global, who handles all transactions details. Your private data is 100% safe, as PayPro Global complies with the latest online security standards.
More than 70 traditional, international and local payment methods available including all major Debit and Credit cards, eWallets (PayPal, Alipay, Webmoney, etc.), Wire Transfers, and many more.
Our clients: