Import Folder Structure
When actively working with Outlook email, especially when sorting messages, you receive a large number of folders. This number only increases over time. If you need to change your email provider and simply when you create a new Outlook profile or a parent folder for the new project or client, there is a need to create the entire folder structure used previously. Often, this structure contains folder permissions defined, especially with Exchange Public Folders.
There are no built-in Outlook features to simplify copying the folder structure from one location to another. Creating folders manually is a laborious process, which leads to different errors. And wrong access rights settings violate the security of the storage of important email, contacts, calendars, tasks, and other sensitive data.
Our utility imports the folder structure from XML files that can contain the whole complex hierarchy with information about folder types and permissions. When you import an XML file with Outlook or Exchange folder structure, you can select any mailbox, Exchange Public Folder or any other folder in Outlook. The utility creates the entire hierarchy at the selected location, and assigns the correct folder types: mail, contacts, calendar, tasks, and other. In addition, it can set the appropriate permissions in accordance with stored in XML.
Command-line utility automates the process of loading the folder structure to Outlook and Exchange using batch files, scripts and Windows Task Scheduler. Scheduled launch may periodically update the various folder structures and their permission sets.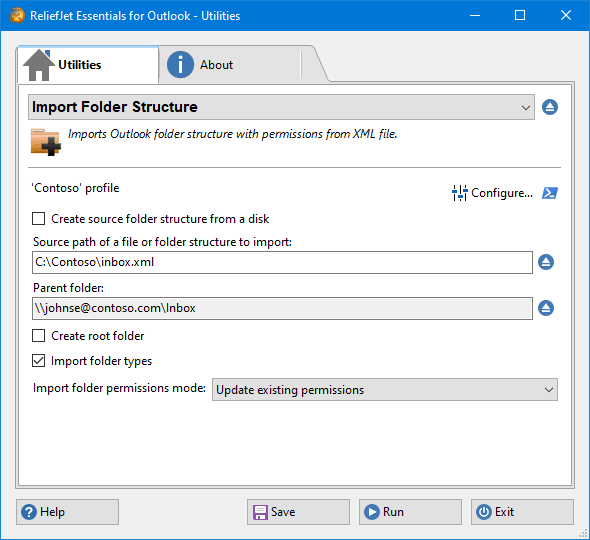 Described features are part of ReliefJet Essentials for Microsoft Outlook: fast and reliable productivity solution for Microsoft Outlook. Besides them ReliefJet Essentials provides many other useful features that significantly simplify every Outlook user's life. An Outlook add-in and a command line utility are also provided along with the standalone application.
Related Utilities: Export Folder Structure, Set Folder Permissions, Export Outlook to MSG, Import MSG to Outlook, Folder Report.
Purchase ReliefJet Essentials for Outlook
For your convenience, we teamed up with PayPro Global to provide a secure and reliable platform for selling our software products online. The whole ordering process is supported by PayPro Global, who handles all transactions details. Your private data is 100% safe, as PayPro Global complies with the latest online security standards.
More than 70 traditional, international and local payment methods available including all major Debit and Credit cards, eWallets (PayPal, Alipay, Webmoney, etc.), Wire Transfers, and many more. All specified prices exclude VAT.
Our clients: