Export Folder Structure
Most Outlook users actively use rules and folders when working with email. Here, the structure of folders can be deep and extensive. Often, you want to create a similar folder structure again. For example, if you change the mailbox, when migrating to other mail systems, or when you create new Outlook profiles. Plus, the simple porting of existing folder hierarchy to another nesting level or another folder. In Exchange Server mailboxes and Public Folders, you may need to configure permissions for each folder.
Outlook does not provide tools to quickly and easily save and restore the folder structure with access rights. You must create all the folders manually and then configure permissions for each. This is a long and inconvenient process, causing errors and mistakes, some of which may pose a serious threat to the security of data store.
This utility exports the Outlook folder structure to an XML file retaining the folder types (mail, calendar, contacts, tasks, etc.) and customized user permissions. Saved XML files can be used as a backup copy of your customized folder hierarchy, and can be edited with any text editor or Windows Notepad.
Command line enables centralized deployment of folder structure for all users in your organization. You can use the utility in batch files and for periodic folder structure backup with permissions by schedule.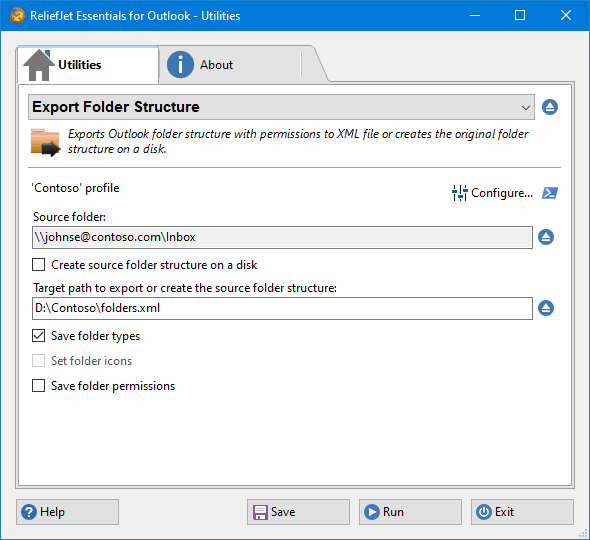 Described features are part of ReliefJet Essentials for Microsoft Outlook: fast and reliable productivity solution for Microsoft Outlook. Besides them ReliefJet Essentials provides many other useful features that significantly simplify every Outlook user's life. An Outlook add-in and a command line utility are also provided along with the standalone application.
Related Utilities: Import Folder Structure, Export Outlook to MSG, Import MSG to Outlook, Folder Report, Folder Permissions Report.
Purchase ReliefJet Essentials for Outlook
For your convenience, we teamed up with PayPro Global to provide a secure and reliable platform for selling our software products online. The whole ordering process is supported by PayPro Global, who handles all transactions details. Your private data is 100% safe, as PayPro Global complies with the latest online security standards.
More than 70 traditional, international and local payment methods available including all major Debit and Credit cards, eWallets (PayPal, Alipay, Webmoney, etc.), Wire Transfers, and many more. All specified prices exclude VAT.
Our clients: