Merge PST Files
Sometimes, you must merge several Outlook PST data files into one. These can be archives or just multiple PST files from different Outlook profiles. It's very difficult to perform such a merge operation with standard Outlook tools, especially if you have many PST files to merge or you need to merge files frequently. Such manual operations are fraught with errors and data loss. Our utility automatically combines multiple PST files into one or more new PST data files. It can work with PST files connected to Outlook and PST files on either your disk or network share.
Key advantages of the utility:
Merging your PST files is safe. The utility changes nothing, but only creates new PST files.
Works with PST files of any size supported by Outlook. There are no limits on the number of folders and messages.
If necessary, splits the combined PST files into pieces by size.
Provides a filter by folder type. For example, you can merge only Outlook contact folders or only calendars from different PST files.
Can skip or replace duplicates. This allows you to merge the same PST files several times, skipping duplicates in new files. This mode is useful for backing up multiple PST files.
Supports macros in names of stored files and folders inside PST files. For a merged PST file, you can specify a folder name; the utility will create folders from source PST files in this folder.
Skip deleted items. To avoid copying redundant data when merging PST files, you can skip deleted items. Here, the "Deleted Items" folder and all its subfolders will be skipped when merging PST files.
Detailed report on the results. After the merge is complete, you will receive a report that shows how many items have been copied, skipped, or replaced for each PST file.
To merge multiple Outlook PST files, select a folder with PST files on your disk or network share, specify the name of the combined file to be created and run the utility. Enable the subfolder processing mode, the path to the folder in the new PST file, the modes of skipping deleted items and duplicates, and set the filter by Outlook folder type. You can also limit the maximum size of the created PST file – in this case, several files may be created.
You can use advanced macros to specify the path to new PST files. This allows you to sort messages or contacts (and other Outlook items) from old PST files to new ones by dates, senders, recipients and other criteria. If a PST file with the resulting name already exists, the utility will use it. If there is no such file, a new PST file will be created, and the data from the source files will be copied there. By using macros in the name of new files, you can sort messages, contacts, tasks, notes, calendar items, and journals from one PST file to another, depending on the field values of the original Outlook items. For example, you can create separate PST files using the message date, part of the subject, senders, recipients, parts of addresses, etc.
Using the command line in batch files and scripts allows you to automate the merging of PST files, and to perform scheduled operations.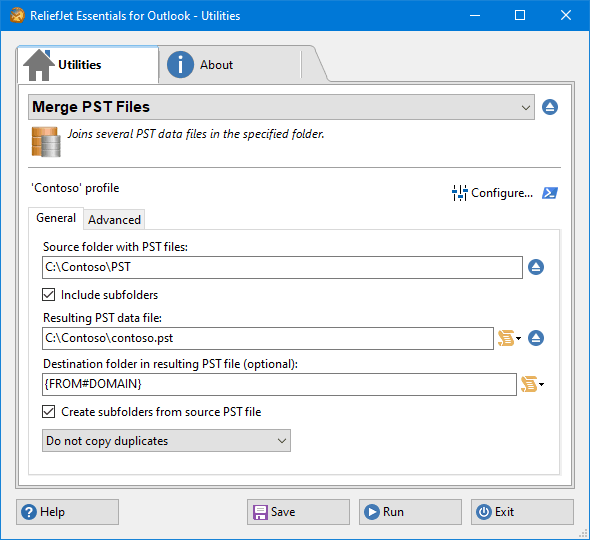 Described features are part of ReliefJet Essentials for Microsoft Outlook: fast and reliable productivity solution for Microsoft Outlook. Besides them ReliefJet Essentials provides many other useful features that significantly simplify every Outlook user's life. An Outlook add-in and a command line utility are also provided along with the standalone application.
Related Utilities: Merge Stores, Split PST File, Store and Data File Report.
Purchase ReliefJet Essentials for Outlook
For your convenience, we teamed up with PayPro Global to provide a secure and reliable platform for selling our software products online. The whole ordering process is supported by PayPro Global, who handles all transactions details. Your private data is 100% safe, as PayPro Global complies with the latest online security standards.
More than 70 traditional, international and local payment methods available including all major Debit and Credit cards, eWallets (PayPal, Alipay, Webmoney, etc.), Wire Transfers, and many more. All specified prices exclude VAT.
Our clients: