Export Outlook to PDF
Saving messages from Outlook to PDF simplifies email archiving. It is easier to search in Adobe PDF documents, and all attachments are next to them. PDF files facilitate the exchange of documents with other users: they can be viewed and printed on any computer without Outlook. Unlike Microsoft Word documents, Outlook does not allow you to export your email messages to PDF files. If you have a PDF printer installed, you can use the message printing feature to print the selected messages to a PDF printer, but this is a very limited method. Each time you have to select the messages you want to print, the attachments are not being saved, and the original Outlook folder structure is not created on your disk. This utility enables you to save email from all selected Outlook folders to PDF files automatically.
Program to save Outlook messages to PDF
Exports messages from multiple Outlook folders to PDF at once.
Converts PST data files and Outlook mailboxes to PDF.
Creates the original Outlook folder structure on a disk or network share.
Automatically renames, overwrites, or skips existing PDF files.
Saves message attachments, inserting links to saved files in the message header.
Organize Outlook export to PDF
Can download external images in the HTML text of the message.
Can move exported messages to the selected Outlook folder or delete them.
Allows you to save emails for a certain period.
Provides the ability to customize the page settings of PDF documents.
Configures the message header, including CC and BCC if needed.
Uses macros in the names of PDF files to specify the resulting documents as needed, as well as automatically sort them.
Automatically save email from Outlook to PDF
Integrates with Outlook rules by automatically exporting incoming and outgoing messages to PDF.
Command line allows you to archive email to PDF from batch files and PowerShell scripts.
Allows you to save Outlook emails to a PDF on a schedule.
To convert Outlook email to PDF files with attachments or save Outlook PST to PDF, select the desired mailboxes and Outlook folders, specify the folder for the resulting PDF files on your disk or network share, and then run the utility. If necessary, specify the mode of overwriting existing PDF files, adjust page and header settings, enable attachment and external image saving mode. The utility can automatically move exported messages to another Outlook folder or delete them. This can be useful for periodically archiving your mail to avoid duplicating previously exported messages.
When you specify paths to PDF files, you can use any message fields, such as subject, email addresses, sender and recipient names, user domain, send and receive dates, Windows environment variables, and many others.
The product contains a command-line application which can be used in your batch files, scripts, and other scenarios to organize the archiving of Outlook messages to PDF files of any complexity. Any number of Exchange Server and Office 365 mailboxes and Public Folders available in your Outlook profiles are supported. Exporting to PDF from command line can be used in Windows Scheduler to archive Outlook email by schedule.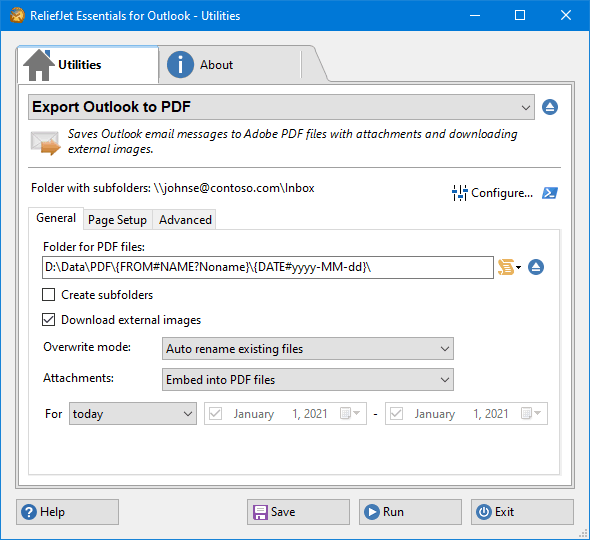 Described features are part of ReliefJet Essentials for Microsoft Outlook: fast and reliable productivity solution for Microsoft Outlook. Besides them ReliefJet Essentials provides many other useful features that significantly simplify every Outlook user's life. An Outlook add-in and a command line utility are also provided along with the standalone application.
Related Utilities: Convert PST to PDF, Export Outlook to DOCX, Export Messages to HTML, Export Messages to Text, Export Messages to EML.
Purchase ReliefJet Essentials for Outlook
For your convenience, we teamed up with PayPro Global to provide a secure and reliable platform for selling our software products online. The whole ordering process is supported by PayPro Global, who handles all transactions details. Your private data is 100% safe, as PayPro Global complies with the latest online security standards.
More than 70 traditional, international and local payment methods available including all major Debit and Credit cards, eWallets (PayPal, Alipay, Webmoney, etc.), Wire Transfers, and many more. All specified prices exclude VAT.
Our clients: