Export Messages to HTML
An easy way to save email messages from Outlook is to export them to HTML files. Saved HTML files can be viewed on any computer or mobile phone using a web browser, with no need to install additional programs. The exported HTML files will contain all the pictures and attachments, and the files themselves will be arranged into folders. You can upload such messages to the Internet or share them with partners who do not have Outlook installed. Exporting messages to HTML files is also a good secondary mail backup.
You can save Outlook messages to HTML manually. However, you can do this only for one opened message. If you want to save the entire folder from Outlook into HTML, multiple folders, or the entire mailbox, you must run this utility.
Key program benefits:
Exports emails from any Outlook folders to HTML files, including Search Folders, Shared Folders and Exchange Server Public Folders.
Retains the original Outlook folder structure; converted HTML files will reside in the same folders and subfolders on your disk.
Saves attachments to separate folders next to HTML files, including inline images and hidden attachments.
Saves embedded attachments like messages and other Outlook items to MSG files.
Converts senders and recipients from Outlook messages to HTML files.
Provides macros for naming files and folders. This allows you to create any folder structure for converted HTML files, and allows you to customize filenames.
Safely saves HTML files, renaming or skipping existing ones if necessary.
Supports to run the conversion directly from Outlook. You can create different configurations for saving HTML files (for example, for different folders); you can run the desired configuration in one click.
Exports selected messages from Outlook to HTML from the right-click context menu.
Automatically exports incoming messages to HTML, thanks to integration with Outlook rules.
Provides a filter for exporting messages in a specified date range.
Contains a standalone application for exporting messages to HTML without having to start Outlook.
Allows you to save the export of emails to HTML from the command line. This lets you bulk-save messages to HTML from multiple Outlook and Exchange Server mailboxes.
To get HTML emails from Outlook, select the source Outlook folders and destination folder on your disk or network share. Make all the customizations you want, specifying what data you want to save and what fields to include in the resulting HTML files. You can move the exported messages to a different folder or delete them permanently. When the export is done, you'll see how many HTML files have been saved from Outlook.
Use the command line application to handle a large number of mailboxes of different users or Exchange Server Public Folders. This app enables you to use the utility in your batch files, scripts, and Windows Task Scheduler.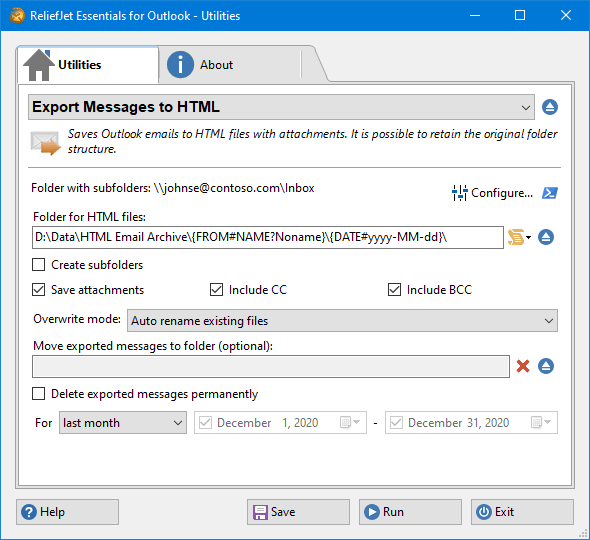 Described features are part of ReliefJet Essentials for Microsoft Outlook: fast and reliable productivity solution for Microsoft Outlook. Besides them ReliefJet Essentials provides many other useful features that significantly simplify every Outlook user's life. An Outlook add-in and a command line utility are also provided along with the standalone application.
Related Utilities: Convert PST to HTML, Export Outlook to PDF, Export Outlook to DOCX, Export Messages to EML, Export Messages to Text.
Purchase ReliefJet Essentials for Outlook
For your convenience, we teamed up with PayPro Global to provide a secure and reliable platform for selling our software products online. The whole ordering process is supported by PayPro Global, who handles all transactions details. Your private data is 100% safe, as PayPro Global complies with the latest online security standards.
More than 70 traditional, international and local payment methods available including all major Debit and Credit cards, eWallets (PayPal, Alipay, Webmoney, etc.), Wire Transfers, and many more. All specified prices exclude VAT.
Our clients: