Remove Duplicate Messages
Remove duplicate emails in Outlook folders, Exchange and Office 365 mailboxes, as well as Exchange Server public folders. Free up space in your mailbox and remove garbage that interferes with your work. Get rid of duplicates quickly and with no mistakes using our Outlook duplicate remover utility. Move duplicates to the specified folder, to bring them back to their original locations, if necessary.
Three ways to remove duplicate messages:
Outlook add-in. Removes duplicate messages directly in Outlook. You can remove duplicates from selected messages and the context menu of a folder. When using frequently, add the utility to the Outlook ribbon and remove duplicates by clicking a single button.
Standalone app. Removes duplicates with no need to start Outlook. Allows you to connect and disconnect PST files without creating new Outlook profiles.
Command line. Removes duplicate emails in scripts, batch files, and by schedule. It is convenient to use the command line during email migrations between computers and servers.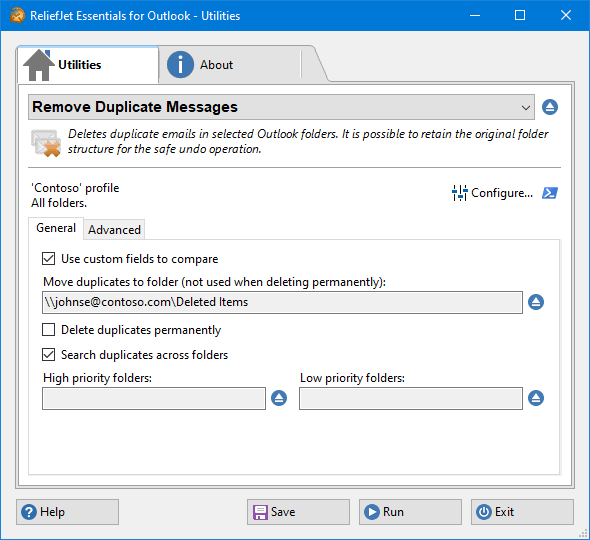 Remove duplicate messages...
From any Outlook folders, including Search Folders. Removes duplicates from one or multiple folders at once. When deleting duplicates, you can use any Outlook filters, just create a suitable search folder and delete duplicate emails in it.
From PST data files. In a standalone app, you can add PST files when selecting folders. You can remove duplicate messages from PST file list, using the power of the command line.
From Exchange Server and Office 365 mailboxes. Supports both cached and online modes. To remove duplicate messages from other users' mailboxes, use the command line or connect additional mailboxes in Outlook.
From Exchange and Office 365 Public Folders. Using the folder priorities, you can leave messages in some folders, and delete duplicates from others. Remove duplicate messages permanently, instead of moving them to the selected folder.
From selected Outlook messages or folders. When using the add-in, you can remove duplicate selected messages or Outlook folders.
Five good reasons to remove duplicate Outlook messages:
Identical messages lead to mailing chaos. You don't know for sure whether the message was replied to or not. If you reply to the same email multiple times, it will lead to serious problems with clients and customers.
Message copies are garbage that litters the mailbox. As a result, the entire mail system starts to run slower, meaning your productivity drops. You spend more time composing and sending messages. If the mailbox is limited in size, then to free up space, you must think carefully about what to delete.
Many duplicates in folders slows down Outlook search. Sometimes, you may find that Outlook is hung. In fact, it's indexing the large files and mailboxes - duplicates make a mess of search for the right email messages.
Duplicates in Exchange and Office 365 public folders slow down the workflow. Some groups of people see replies to messages; others may miss them. As a result, it takes more time to complete many tasks, and the work efficiency decreases.
If duplicates exist in your mailboxes, you need more space to create backups. At some point, a backup copy of your mailbox won't fit on your disk drive or network share. When using cloud storages, additional costs that can be avoided are required.
How to determine that messages are duplicates?
The answer to this question is not as obvious as it may seem at first glance. To understand which messages are duplicates and which are not, you must compare their significant fields and properties. For example, you can select these fields for comparison: subject, text, sender, recipients, and attachments. If these fields have the same values for multiple messages, it can be concluded that such messages are duplicates. Dates are rarely used to detect duplicates because duplicates are often several identical messages sent at different times.
Detecting duplicates within a date range
If you know exactly where duplicates appeared, for example, over the last few days, set the filter by dates. Removing duplicate messages over the past week will work much faster than removing duplicates from the entire mailbox or data file. When periodically deleting duplicate messages from public folders, it is enough to make a complete duplicate deletion once. In the future, it is better to use a constrained deletion, for example, only for the last month.
Save your time and don't make mistakes!
You can delete duplicate Outlook messages manually, but it is hard and time-consuming work. You will need to compare many messages using several criteria. Perhaps comparing a couple of dozen messages in one Outlook folder will not be a problem. However, if there are tons of duplicates in different folders, this becomes a difficult problem to solve. Most likely, you will miss something or delete more than needed. Using our program will save your time and save you from errors.
What can you do with duplicate messages in Outlook?
Move duplicates to the specified folder. By default, this is the "Deleted Items" folder. The utility will move duplicate messages to the selected folder, preserving the original structure. Here, you can recover deleted Outlook duplicates, using the Merge Folders utility.
Delete duplicates permanently. This way, the duplicates are not being moved anywhere, but simply deleted. This option is also useful if your Outlook store doesn't contain the "Deleted Items" folder. For example, if you remove duplicates from public folders. Before using this mode of duplicate removal, it is useful to check the correctness of the utility settings by using the Duplicate Outlook Items Report.
Assign the specified Outlook categories to duplicates, mark them with a flag or set their expiration date. To do this, run the Find Duplicate Messages utility.
Removing duplicates from one or more folders
If duplicate messages are in different folders, set the "Search duplicates across the folders" option. In this case, the utility first searches for duplicates in all selected folders, and only then deletes them. To keep original messages their places, specify the folder priorities. For example, when using Outlook/Exchange rules to sort received messages in different folders, it's convenient to add the "Inbox" to the low priority list. In this case, messages sorted by rules will always be considered originals, and duplicates in the Inbox will be deleted.
When searching for duplicates in multiple folders at once, your messages will remain in some places, and duplicates in other places will be deleted. Configure folder priorities to specify which to leave messages in. You can add any Outlook folder to the high or low priority list. The utility leaves the same messages in those folders with the highest priority. If a duplicate is in the folder with a lower priority, it will be deleted. If you don't use the folder priorities, the utility will delete the messages created recently, leaving those that are older.
Removing duplicates during email migrations
Migrating mailboxes from other mail systems or mail programs is a complex process fraught with errors and failures. Sometimes, user mailboxes or public folders are migrated to a new system along with redundant duplicates. To address such problems, often unique to the particular organization, the ability to remove duplicates using a command line is provided. As a command line parameter, you can specify the list of mailboxes, public folders and PST files requiring mass de-duplication. You can use the command line application in your PowerShell scripts, batch files and other scenarios.
Described features are part of ReliefJet Essentials for Microsoft Outlook: fast and reliable productivity solution for Microsoft Outlook. Besides them ReliefJet Essentials provides many other useful features that significantly simplify every Outlook user's life. An Outlook add-in and a command line utility are also provided along with the standalone application.
Related Utilities: Find Duplicate Messages, Remove Duplicate Contacts, Remove Duplicate Calendar Entries, Remove Duplicate Tasks, Remove Duplicate Notes, Remove Duplicate Journal Entries, Merge Folders, Duplicate Outlook Items Report.
Purchase ReliefJet Essentials for Outlook
For your convenience, we teamed up with PayPro Global to provide a secure and reliable platform for selling our software products online. The whole ordering process is supported by PayPro Global, who handles all transactions details. Your private data is 100% safe, as PayPro Global complies with the latest online security standards.
More than 70 traditional, international and local payment methods available including all major Debit and Credit cards, eWallets (PayPal, Alipay, Webmoney, etc.), Wire Transfers, and many more. All specified prices exclude VAT.
Our clients: