Unused Contacts Report
Have you ever wondered how many contacts in Outlook, shared mailboxes, Exchange Server, and Office 365 folders have been out of use in your email correspondence for a long time? Often, there may be many such contacts. For example, after you delete and archive messages or over time, contacts you no longer use appear. They accumulate and reduce your productivity and Outlook performance. This report will help you quickly find out which contacts have not been used in your email messages, tasks, calendars, or other Outlook items for a long time.
Key utility benefits:
Displays a simple list of unused contacts and a detailed report.
Looks for unused contacts in any of the selected Outlook and Exchange folders.
Shows the location of the contacts found, the number of uses, and the date of the first and last usage for the specified period.
Searches for email addresses in recipients, senders, and texts.
Allows you to save the resulting report to a CSV table file or copy it to the Windows clipboard for later insertion into Excel and other programs.
You can create the report directly in Outlook, separately from Outlook, and from the command line.
To see a list of unused contacts, select folders with email messages or other Outlook, Exchange Server, or Office 365 items. These folders will be searched for email addresses from selected contact folders. If necessary, specify a date period and where to get email addresses when searching. In detailed mode, the report will show all the statistics you need: the contact's name, the number of times the contact was used in recipients, senders, and texts, the first and last usage dates, and the location of the contact folder.
After reviewing the report, you can decide whether to delete or archive unused contacts. You can also assign categories to unused contacts or mark them with a flag. The program supports all required startup modes: from Outlook, a standalone application, or a command line. In the last case, you can build a report from your batch files, scripts, and by schedule.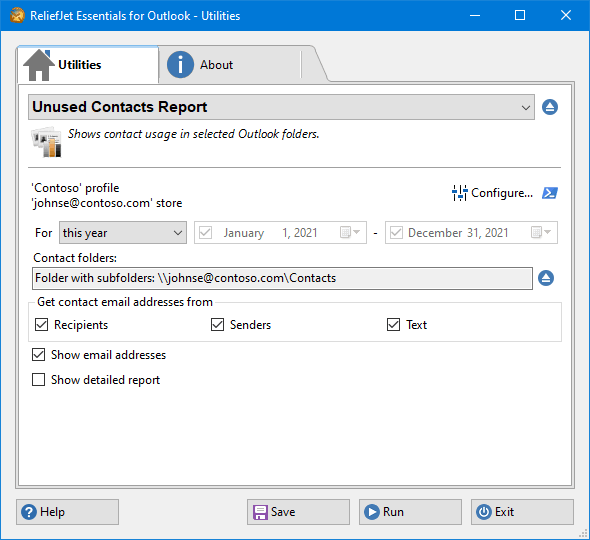 Described features are part of ReliefJet Essentials for Microsoft Outlook: fast and reliable productivity solution for Microsoft Outlook. Besides them ReliefJet Essentials provides many other useful features that significantly simplify every Outlook user's life. An Outlook add-in and a command line utility are also provided along with the standalone application.
Related Utilities: Find Unused Contacts, Remove Unused Contacts, Duplicate Outlook Items Report.
Purchase ReliefJet Essentials for Outlook
For your convenience, we teamed up with PayPro Global to provide a secure and reliable platform for selling our software products online. The whole ordering process is supported by PayPro Global, who handles all transactions details. Your private data is 100% safe, as PayPro Global complies with the latest online security standards.
More than 70 traditional, international and local payment methods available including all major Debit and Credit cards, eWallets (PayPal, Alipay, Webmoney, etc.), Wire Transfers, and many more. All specified prices exclude VAT.
Our clients: