Split PST File
ReliefJet Essentials has many advantages over OutlookFreeware.com Utilities including the following:
| Feature set | OutlookFreeware Utilities | ReliefJet Essentials |
| --- | --- | --- |
| Fast and easy to use Outlook add-in | Yes | Yes |
| Standalone launcher desktop application | Yes | Yes |
| Allowed to run in domain enviroment | No | Yes |
| Ability to save configuration and results | No | Yes |
| Selecting folders with subfolders | No | Yes |
| Working with multiple Outlook profiles, accounts and PST files | No | Yes |
| Integration with Outlook rules | No | Yes |
| All available utilities in one package | No | Yes |
| Product support | Community forum | Yes |
| Product documentation | Web site content | Online Help and PDF |
Don't miss out on this ultimate solution to manage your Outlook data!
Do you struggle with large, unwieldy PST files in Microsoft Outlook? Are you constantly worried about data corruption and slow performance? Fear not! Our cutting-edge PST Splitter tool is here to save the day by effortlessly splitting your oversized PST files into smaller, more manageable ones.
Key features you can't afford to miss:
Universal Compatibility: Works seamlessly with all PST formats, including Unicode and ANSI. No limitations based on the age or type of your PST files.
Data Integrity: Retains original data and folder hierarchy, so you can easily navigate through the split PST files and find what you need, hassle-free.
Splitting Options: Choose from various parameters for splitting, such as date, sender/recipient email address, subject, size, or folder, allowing you to automatically organize your data into new PST files.
Flexible Management: Create new smaller PST files or append data to existing ones, avoiding unnecessary data files and ensuring your data is always where it should be.
Time-Saving Features: Attach or detach split data files to/from Outlook during the splitting process, skipping unnecessary steps and increasing efficiency.
Delete Unwanted Data: Skip the Deleted Items folder if necessary, reducing the size of the split files and ensuring unnecessary data is not included.
Period-Based Splitting: Split PST files created within a specified time period, perfect for archiving or backup purposes.
Professional Version: Offers command line and batch processing support for efficiently splitting large volumes of data from different profiles.
Why wait any longer? Maximize your productivity and protect your precious data by choosing our PST Splitter tool. Don't let the fear of missing out on better Outlook performance and organization hold you back. Try our PST Splitter now and experience the difference!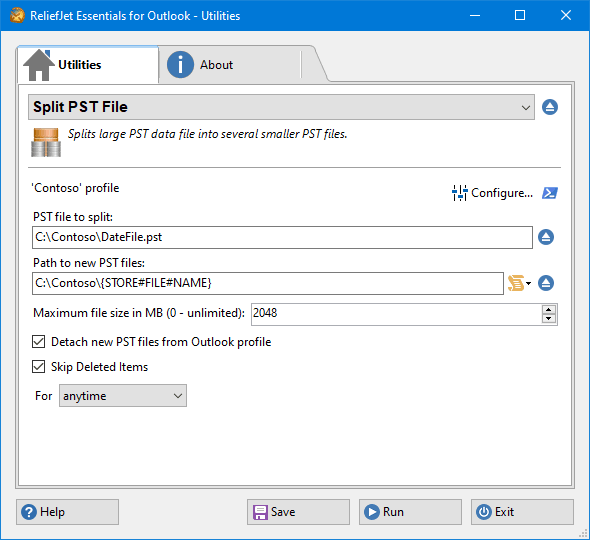 Described features are part of ReliefJet Essentials for Microsoft Outlook: fast and reliable productivity solution for Microsoft Outlook. Besides them ReliefJet Essentials provides many other useful features that significantly simplify every Outlook user's life. An Outlook add-in and a command line utility are also provided along with the standalone application.
Related Utilities: Split Outlook Store, Export Outlook to PST, Merge Stores, Merge Folders, Create/Open/Close PST File.
Purchase ReliefJet Essentials for Outlook
For your convenience, we teamed up with PayPro Global to provide a secure and reliable platform for selling our software products online. The whole ordering process is supported by PayPro Global, who handles all transactions details. Your private data is 100% safe, as PayPro Global complies with the latest online security standards.
More than 70 traditional, international and local payment methods available including all major Debit and Credit cards, eWallets (PayPal, Alipay, Webmoney, etc.), Wire Transfers, and many more. All specified prices exclude VAT.
Our clients: