Split Outlook Store
The utility splits large PST files, as well as other storages, mailboxes, and Outlook/Exchange Server public folders into smaller parts. As a result, it creates new PST files and source data files, and storages remain unchanged. The resulting files can be used in further work or saved to the personal archives. When working with smaller data files, Outlook performs much faster. Thus, you're using your working hours effectively, spending less time on information search and working with outdated mail.
When breaking into new PST files, all the elements are copied from Outlook, messages, tasks, calendar items, notes, journal entries, contacts, and other items from folders in the source storage, including the Inbox, Sent Items, Deleted Items, etc. The utility creates the original Outlook folder structure, containing complete copies of the elements, with all the recipients, attachments, formatting, and other fields. The original data file can be split by size and year. If you select both, several files of the specified maximum size will be created for each year. The utility supports the modern Unicode and legacy ANSI PST files created in older versions of Outlook.
Professional Edition owners can use the utility in batch mode. This can be useful for splitting a large number of files that are located in different places and network resources.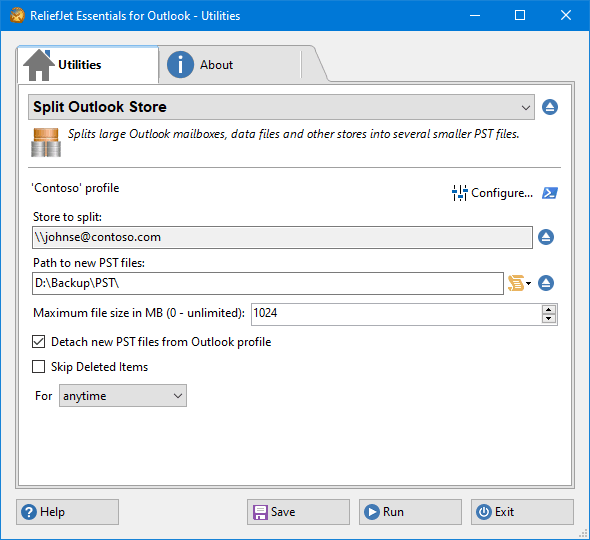 Described features are part of ReliefJet Essentials for Microsoft Outlook: fast and reliable productivity solution for Microsoft Outlook. Besides them ReliefJet Essentials provides many other useful features that significantly simplify every Outlook user's life. An Outlook add-in and a command line utility are also provided along with the standalone application.
Related Utilities: Split PST File, Export Outlook to PST, Merge Stores, Merge Folders, Create/Open/Close PST File.
Purchase ReliefJet Essentials for Outlook
For your convenience, we teamed up with PayPro Global to provide a secure and reliable platform for selling our software products online. The whole ordering process is supported by PayPro Global, who handles all transactions details. Your private data is 100% safe, as PayPro Global complies with the latest online security standards.
More than 70 traditional, international and local payment methods available including all major Debit and Credit cards, eWallets (PayPal, Alipay, Webmoney, etc.), Wire Transfers, and many more.
Our clients: