Duplicate Attachments Report
ReliefJet Essentials has many advantages over OutlookFreeware.com Utilities including the following:
| Feature set | OutlookFreeware Utilities | ReliefJet Essentials |
| --- | --- | --- |
| Fast and easy to use Outlook add-in | Yes | Yes |
| Standalone launcher desktop application | Yes | Yes |
| Allowed to run in domain enviroment | No | Yes |
| Ability to save configuration and results | No | Yes |
| Selecting folders with subfolders | No | Yes |
| Working with multiple Outlook profiles, accounts and PST files | No | Yes |
| Integration with Outlook rules | No | Yes |
| All available utilities in one package | No | Yes |
| Product support | Community forum | Yes |
| Product documentation | Web site content | Online Help and PDF |
This utility allows you to check Outlook for existence of identical attachments in mailboxes (duplicate attachments). After verification, you will receive a detailed report on the number of duplicate attachments, their location and size.
When you actively send files by email, duplicate attachments can take a significant portion of space in your mailbox. Not every company can afford to host such a volume of data. This report will help you estimate the place occupied by redundant data. In addition, the same files may have different names and vice versa. All this leads to confusion and loss of productivity.
This utility compares the contents of attachments in email messages and other Outlook items, and displays a detailed report. The resulting report can be saved into a CSV spreadsheet file, copied, and opened in other programs. The program is easy to install and use: select Outlook folders to search for duplicated attachments, specify the desired Outlook item types, and run the program. The report allows you to use file masks (for example, to get the report on duplicates of Word documents only, type the *.doc? mask). If necessary, specify the date range.
This unique utility indicates the problem of free space waste in Outlook mailboxes and PST data files. The report is part of a comprehensive solution for optimizing free space in Outlook. Thanks to the support of the command line, you can provide the centralized control of unneeded files in user mailboxes and Exchange Server public folders.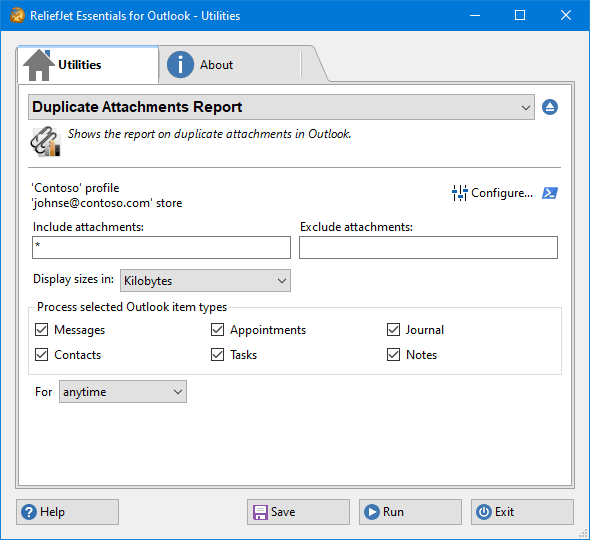 Described features are part of ReliefJet Essentials for Microsoft Outlook: fast and reliable productivity solution for Microsoft Outlook. Besides them ReliefJet Essentials provides many other useful features that significantly simplify every Outlook user's life. An Outlook add-in and a command line utility are also provided along with the standalone application.
Related Utilities: Remove Duplicate Attachments, Find Duplicate Attachments, Duplicate Outlook Items Report, Attachment Report.
Purchase ReliefJet Essentials for Outlook
For your convenience, we teamed up with PayPro Global to provide a secure and reliable platform for selling our software products online. The whole ordering process is supported by PayPro Global, who handles all transactions details. Your private data is 100% safe, as PayPro Global complies with the latest online security standards.
More than 70 traditional, international and local payment methods available including all major Debit and Credit cards, eWallets (PayPal, Alipay, Webmoney, etc.), Wire Transfers, and many more.
Our clients: