Restore Attachments from Links
This utility puts the saved attachment files back, in place of links, created by the Replace Attachments with Links utility in email messages, appointments and meetings, contacts, and other Outlook items. It allows you to restore Outlook attachments securely from links. For example, you need to forward or redirect the message containing the attachment replaced with link. In this case, you can quickly restore the attachment from the link, so the recipient could open it.
Most Outlook users make backup copies of their PST data files and mailboxes. If you replace the attachments with links, the backup will save links, not the attachment files. If you want the actual attachments to be stored in a backup, you may need to restore them from links first. The utility allows you to put the attached files back in Outlook quickly and perform the backup losing no attachment data.
The utility is easy to install and use. Flexible settings allow you to choose in which types of Outlook items you want to replace links with attachments. You can also use file masks (for example, replace only *.zip files). You can also set the required data rage.
This utility is part of a comprehensive solution for saving free space in Outlook mailboxes and data files. Support for command line enables you to restore attachment files to Outlook items centrally, using scripts and batch files.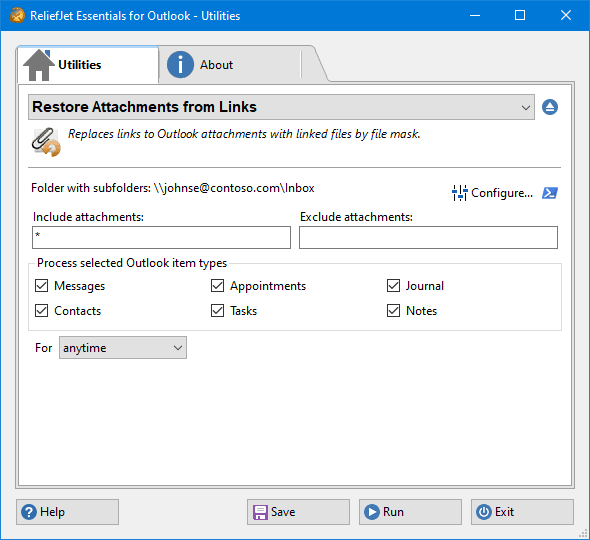 Described features are part of ReliefJet Essentials for Microsoft Outlook: fast and reliable productivity solution for Microsoft Outlook. Besides them ReliefJet Essentials provides many other useful features that significantly simplify every Outlook user's life. An Outlook add-in and a command line utility are also provided along with the standalone application.
Related Utilities: Replace Attachments with Links, Update Linked Attachments.
Purchase ReliefJet Essentials for Outlook
For your convenience, we teamed up with PayPro Global to provide a secure and reliable platform for selling our software products online. The whole ordering process is supported by PayPro Global, who handles all transactions details. Your private data is 100% safe, as PayPro Global complies with the latest online security standards.
More than 70 traditional, international and local payment methods available including all major Debit and Credit cards, eWallets (PayPal, Alipay, Webmoney, etc.), Wire Transfers, and many more.
Our clients: