Update Linked Attachments
This utility changes the location of the files in the linked attachments of email messages, contacts, calendars, tasks, and other Outlook items. The links remain in place as attachments – the utility only changes the location of the files to which they point.
Replacing Outlook attachments with links is a convenient and easy way to free up space in your mailbox or Exchange Server public folders. After running the Replace Attachments with Links utility, file attachments are saved to the specified location and links are placed instead of them. Sometimes, you might want to move the saved attachment files to another location, for example, if you change your computer, rename the network share, or even change the drive letter or the name of the folder with attachments.
This utility replaces the location of files in links to Outlook attachments. You just need to select Outlook folders, specify the old and the new location of the files, and then run the utility. The utility will replace the old location to the new one in all appropriate links. You can also limit the types of processed Outlook items and the date range.
Command line allows you to centralize the movement of common file storages among many users, thanks to the ability to use the it in your scripts, batch files and other scenarios.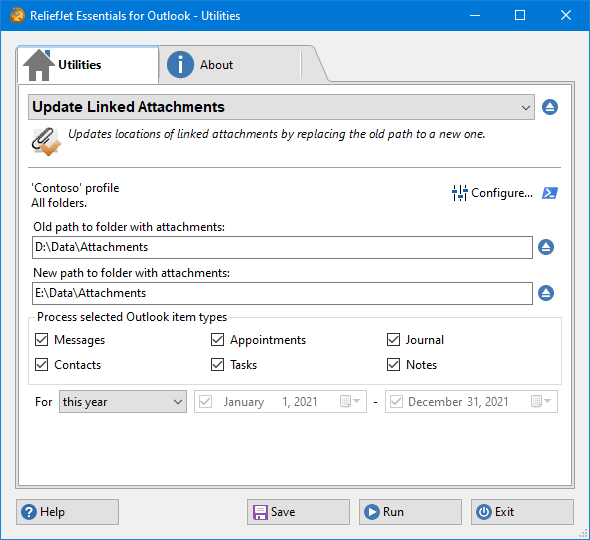 Described features are part of ReliefJet Essentials for Microsoft Outlook: fast and reliable productivity solution for Microsoft Outlook. Besides them ReliefJet Essentials provides many other useful features that significantly simplify every Outlook user's life. An Outlook add-in and a command line utility are also provided along with the standalone application.
Related Utilities: Replace Attachments with Links, Restore Attachments from Links.
Purchase ReliefJet Essentials for Outlook
For your convenience, we teamed up with PayPro Global to provide a secure and reliable platform for selling our software products online. The whole ordering process is supported by PayPro Global, who handles all transactions details. Your private data is 100% safe, as PayPro Global complies with the latest online security standards.
More than 70 traditional, international and local payment methods available including all major Debit and Credit cards, eWallets (PayPal, Alipay, Webmoney, etc.), Wire Transfers, and many more. All specified prices exclude VAT.
Our clients: