Convert EML to MSG
ReliefJet Essentials has many advantages over OutlookFreeware.com Utilities including the following:
| Feature set | OutlookFreeware Utilities | ReliefJet Essentials |
| --- | --- | --- |
| Fast and easy to use Outlook add-in | Yes | Yes |
| Standalone launcher desktop application | Yes | Yes |
| Allowed to run in domain enviroment | No | Yes |
| Ability to save configuration and results | No | Yes |
| Selecting folders with subfolders | No | Yes |
| Working with multiple Outlook profiles, accounts and PST files | No | Yes |
| Integration with Outlook rules | No | Yes |
| All available utilities in one package | No | Yes |
| Product support | Community forum | Yes |
| Product documentation | Web site content | Online Help and PDF |
This utility converts email files from EML and EMLX to MSG for Outlook. The EML format is used by a variety of programs to store and migrate messages. The EMLX format is used in MacOS and Apple Mail. It is similar to EML, contains the same data, but has a slightly different structure. Each EML/EMLX file contains one email message along with attachments and pictures. Microsoft Outlook uses MSG files to copy messages and other items to disk and back into mailboxes. MSG files contain all message data, including attachments and additional properties used by Outlook (categories, flags, reminders, and more).
Which programs make use of EML messages?
Many email programs, such as Windows Live Mail, Mozilla Thunderbird, Mac Mail, Apple Mail, Entourage, Outlook Express, Zoho Mail, The Bat! and others use EML and EMLX email formats. Mail software that does not store messages in EML files usually utilize this format to export or import email.
Why convert messages from EML to MSG?
There are different reasons why you want to change the message format from EML to MSG:
Emails in MSG format may contain additional Outlook fields. Many of these fields can be displayed in Windows Explorer columns and searched for their contents.

When you drag and drop an EML file into your Outlook folder, a new message is created where the file is added as an attachment. When you drag an MSG file into Outlook, a normal copy of the MSG message is created in the folder.
Outlook works very poorly with large EML messages: it takes a long time to open them and often just errors out. Large MSG messages do not cause such problems – it is the native Outlook format.
Often, EML message files take up more space than MSG files. This can be critical for archiving to cloud drives.
Any other reason unique to your case.
How to convert MSG to EML
To save EML/EMLX messages into MSG format, select the source and destination folders in the utility settings. Run the utility, and all further work will be done automatically. When selecting the subfolders inclusion mode, the original folder structure will be created at the destination.
What are the MSG file names when converting EML files?
By default, this MSG to EML converter retains original file names, but the file extensions change from .eml to .msg. Using macros, you can specify file or folder names based on the date, message subject, recipient and sender addresses, and other message headers. Thus, by converting EML into MSG with this utility, you can re-sort messages into new folders as you like.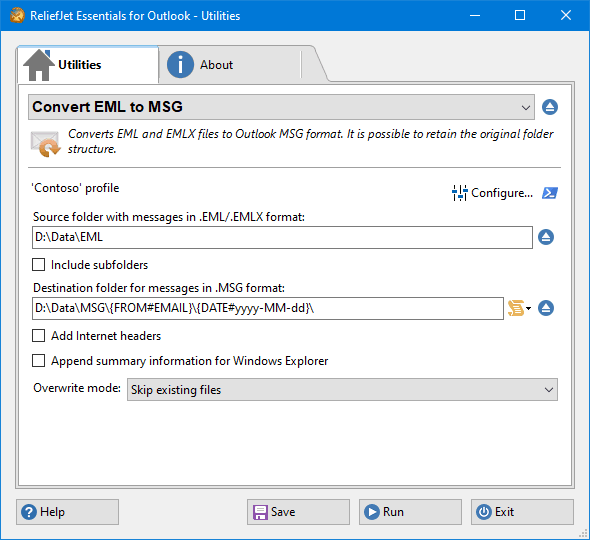 It is strongly not recommended to use online services to convert EML to MSG!
Email messages contain sensitive data. When you use an online service to convert EML files into MSG format, the original message is sent to someone else's computer, where it is converted to the target format. The resulting MSG file is then downloaded to your computer. In this case, your messages are processed and stored on a third-party computer, and you have no control over any further actions of third parties in relation to your personal data.
Unlike online converters, this tool only works on your computer. No data is transferred anywhere, and everything remains in your hands. Using this tool, you can be sure that the valuable information contained in your messages will not fall into the wrong hands.
Are there any limits to converting EML to MSG?
There are no limits on the number and size of EML files to be converted. You can convert an unlimited number of files and folders as many times as you like. The EML and EMLX formats of all existing email clients and systems are supported.
What data is saved from EML to MSG?
During the conversion, the utility copies all data from the EML to MSG message files. In particular, it saves dates, sender and recipient addresses, subjects, message texts, along with all pictures, HTML markup and attachments, Internet headers and other message properties.
How to start EML to MSG file conversion on schedule?
To convert emails from the EML format to MSG to Outlook periodically, use a command line utility and Windows Task Scheduler. You just need to set up a schedule to automatically run the utility using familiar Windows built-in tools. There is no need to manually log in to a user account to convert EML to MSG.
How to perform bulk mail conversion from EML to MSG?
The program provides mass and continuous message conversion capabilities, using scripts and batch files. This requires the command line utility that is part of the product. The command line will help you to implement complex email migration scenarios, while a standalone launcher app converts EML to MSG with no need to start Outlook.
Converting all your email files from EML to MSG will save space on your disk in cloud storage. You will be able to quickly search through various message fields in Windows Explorer, drag and drop MSG email message files directly into Outlook folders, and open very large messages.
Described features are part of ReliefJet Essentials for Microsoft Outlook: fast and reliable productivity solution for Microsoft Outlook. Besides them ReliefJet Essentials provides many other useful features that significantly simplify every Outlook user's life. An Outlook add-in and a command line utility are also provided along with the standalone application.
Related Utilities: Convert MSG to EML, Convert EML to HTML, Import EML to Outlook, Import MSG to Outlook, Save Attachments from MSG, Remove Attachments from MSG.
Purchase ReliefJet Essentials for Outlook
For your convenience, we teamed up with PayPro Global to provide a secure and reliable platform for selling our software products online. The whole ordering process is supported by PayPro Global, who handles all transactions details. Your private data is 100% safe, as PayPro Global complies with the latest online security standards.
More than 70 traditional, international and local payment methods available including all major Debit and Credit cards, eWallets (PayPal, Alipay, Webmoney, etc.), Wire Transfers, and many more. All specified prices exclude VAT.
Our clients: