Convert MSG to EML
The utility converts Outlook MSG files to EML message files with attachments. There are no restrictions on the size and number of files to convert. The MSG file format is used by Outlook to save messages, contacts, tasks, calendar entries, and other items into individual files on your disk. The resulting MSG file contains all the fields and properties of an Outlook item. For messages, these can be fields, such as subject, sender and recipient addresses, attachments, message body, categories, flags, and many others.
What programs make use of EML messages?
The EML message file format is used by many email clients, such as Mozilla Thunderbird, Windows Live Mail, Apple Mail, Outlook Express, IncrediMail, Windows Mail, MacMail, Spicebird, Mail Copa, The Bat, DreamMail and others. Some email programs work directly with EML, while others are able to import EML files into their mail database.
What is the difference between MSG and EML files?
Here are some important facts about MSG and EML file formats:
Outlook uses the MSG format to save messages, contacts, calendars, tasks, and other items to individual files on the disk; you can just drag and drop them.
Only email messages can be stored in EML files.
MSG files contain all the fields and internal properties of messages and other Outlook items.
EML files contain most of the message data, including attachments, but some Outlook internal properties and fields cannot be stored in EML format.
MSG is the Microsoft Outlook internal format. To work with such files, you need Outlook to be installed on your computer. You can drag and drop these files directly into Outlook folders.
Other mail clients don't understand the MSG format and don't know how to work with it, unlike the EML format.
Most often, EML files take up more space than MSG.
Why convert files from Outlook MSG to EML?
Although MSG is a better format for storing messages than EML, it is only used in Microsoft Outlook. In order for other email programs to work with MSG file content, they need to be converted to a more universal EML format. This message storage format has been around for a long time, and almost all email software can use it one way or another.
How to convert MSG to EML
To convert MSG messages into EML files, configure the utility by selecting the source folder with MSG files and the destination folder for the resulting EML files. If required, make additional settings. Run the utility, and all further work will be done automatically. When you set a subfolder inclusion mode, a folder structure will be created in the destination folder repeating the original one.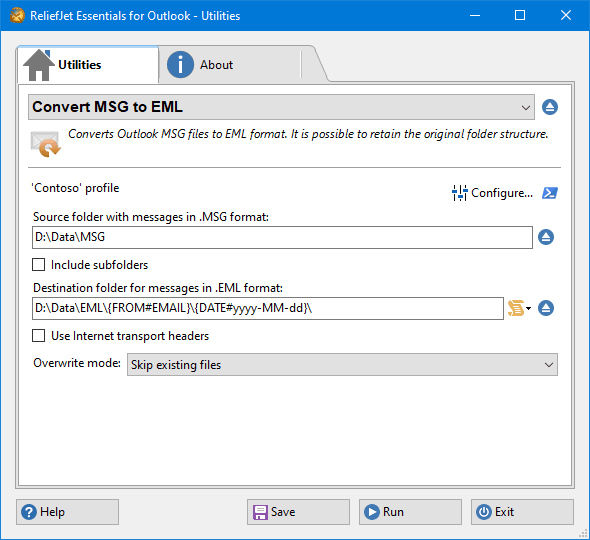 How are EML files named when converting them from MSG?
By default, this MSG to EML converter retains the original file names, changing only extensions from .msg to .eml. Using macros, you can specify file or folder names the way you want: use dates, subjects, recipient and sender addresses, and other message data in file names. This allows you to automatically sort the resulting EML messages into a new folder structure.
Are there any limitations, and what data is saved when MSG is converted to EML?
There are no limits on the number and size of files to be converted and received. You can convert an unlimited number of folders as many times as you like. During conversion, the utility saves all MSG data that is supported by the EML format. For example, subject, sender and recipient addresses, attachments, message text with HTML markups and pictures, Internet headers.
How to perform mass MSG to EML conversion from the command line and by schedule?
To convert MSG files to EML from a command line, use a dedicated console app that is part of the product. The ready-made utility settings for a command line can be copied from a standalone launcher app by clicking the "Show command line" button. You can use the command line app to convert MSG to EML in your scripts, batch files and other scenarios. In particular, the Windows Task Scheduler allows you to flexibly customize the schedule settings and run the program automatically, even without manual logging into the user's account.
By converting email message files from Outlook MSG to EML format, you'll be able to enable other email clients and systems to work with your mail. You don't need Outlook to open EML files. This kind of messages can be viewed on mobile devices and operating systems other than Microsoft Windows.
Described features are part of ReliefJet Essentials for Microsoft Outlook: fast and reliable productivity solution for Microsoft Outlook. Besides them ReliefJet Essentials provides many other useful features that significantly simplify every Outlook user's life. An Outlook add-in and a command line utility are also provided along with the standalone application.
Related Utilities: Convert EML to MSG, Convert MSG to HTML, Import MSG to Outlook, Import EML to Outlook, Save Attachments from EML, Remove Attachments from EML.
Purchase ReliefJet Essentials for Outlook
For your convenience, we teamed up with PayPro Global to provide a secure and reliable platform for selling our software products online. The whole ordering process is supported by PayPro Global, who handles all transactions details. Your private data is 100% safe, as PayPro Global complies with the latest online security standards.
More than 70 traditional, international and local payment methods available including all major Debit and Credit cards, eWallets (PayPal, Alipay, Webmoney, etc.), Wire Transfers, and many more.
Our clients: