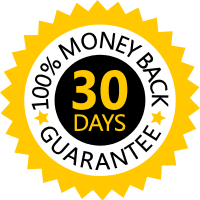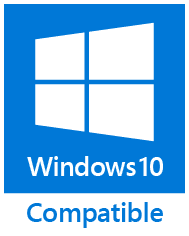 Set Folder Permissions
ReliefJet Essentials has many advantages over OutlookFreeware.com Utilities including the following:
Feature set
ReliefJet Essentials
OutlookFreeware Utilities
Basic Features
Fast and easy to use Outlook add-in
Yes
Yes
Standalone launcher desktop application
Yes
Yes
Allowed to run in a corporate domain
Yes
No
Integration with Outlook rules
Yes
No
Advanced Features
Command line support
Yes
No
Macros for parameters and messages
Yes
No
Advanced configurations for the utilities
Yes
No
Multiple configurations for each utility
Yes
No
Support for Outlook Search Folders
Yes
No
Ability to install for all users of the machine
Yes
No
Enterprise Features
Support for Outlook Shared/Delegated Folders
Yes
No
Support for Exchange Server Public Folders
Yes
No
Support for Exchange Server Online Archives
Yes
No
Support for Exchange Shared Mailboxes
Yes
No
Support for signed and encrypted secure messages
Yes
No
Support for Symantec/Veritas Enterprise Vault
Yes
No
Bulk processing of Exchange mailboxes and Outlook PST files
Yes
No
Product Maintainance
All available utilities in one package
Yes
No
Downloadable utilities
Full set included
Yes
Product support
Yes
Community forum
Product documentation
Online Help and PDF
Web site content
This utility modifies or adds the permissions for the selected Outlook folders in Exchange Server and Office 365 mailboxes, as well as in Public Folders. It allows you to change the permissions for calendar, contact, task, email and other folders. You can set permissions for selected and anonymous users, as well as default permissions.
Standard Outlook tools restrict the ability to edit folder access rights. You can configure permissions for one folder at a time only; there is no mass customization for many folders and users. Moreover, there is no way to set permissions using the command line or by schedule.
The utility provides the flexibility when solving various tasks related to configuring Outlook, Exchange and Office 365 folder permissions. Simply select the folder, specify users, set permissions, and run the utility. When you configure the permission set, you can select the standard Outlook permission level or specify custom rights to read, edit, delete, create and others.
Command line support allows you to use the utility in many scripts and scenarios. For example, as a migrations helper, to run by a schedule, to restore folder permissions backups, and for other tasks when configuring user access rights to Outlook folders.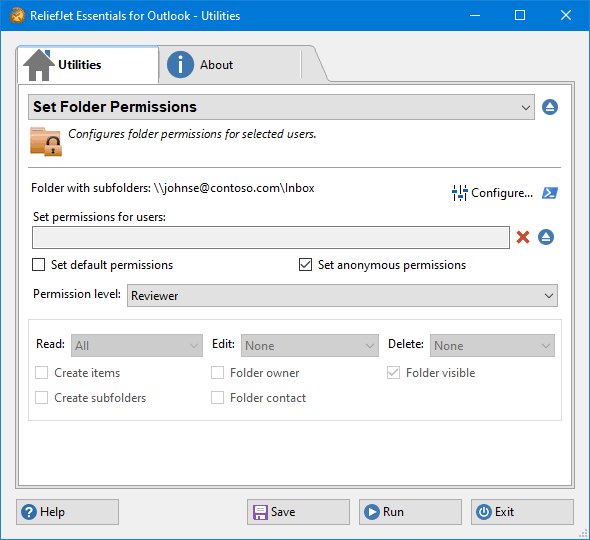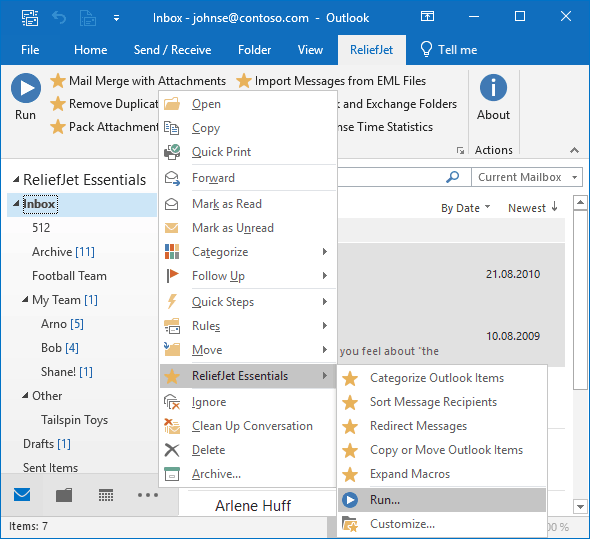 "Set Folder Permissions" Screenshots
Described features are part of ReliefJet Essentials for Microsoft Outlook: fast and reliable productivity solution for Microsoft Outlook. Besides them ReliefJet Essentials provides many other useful features that significantly simplify every Outlook user's life. An Outlook add-in and a command line utility are also provided along with the standalone application.
Related Utilities: Delete Folder Permissions, Import Folder Structure, Folder Permissions Report.
Purchase ReliefJet Essentials for Outlook
For your convenience, we teamed up with Avangate to provide a secure and reliable platform for selling our software products online. The whole ordering process is supported by Avangate, who handles all transactions details. Your private data is 100% safe, as Avangate complies with the latest online security standards.
More than 45 payment methods provided including major Debit and Credit cards, eWallets (PayPal, Alipay, Webmoney, etc.), Direct Debit, Real-time Bank Transfers (Giropay, DIRECTebanking.com, iDEAL, etc.), Wire Transfers, Checks and Purchase Orders, Cash / Offline, Fax Orders and more.
Our clients: