Export Outlook to MSG
ReliefJet Essentials has many advantages over OutlookFreeware.com Utilities including the following:
| Feature set | OutlookFreeware Utilities | ReliefJet Essentials |
| --- | --- | --- |
| Fast and easy to use Outlook add-in | Yes | Yes |
| Standalone launcher desktop application | Yes | Yes |
| Allowed to run in domain enviroment | No | Yes |
| Ability to save configuration and results | No | Yes |
| Selecting folders with subfolders | No | Yes |
| Working with multiple Outlook profiles, accounts and PST files | No | Yes |
| Integration with Outlook rules | No | Yes |
| All available utilities in one package | No | Yes |
| Product support | Community forum | Yes |
| Product documentation | Web site content | Online Help and PDF |
Save Outlook email to MSG files – one file per message. In addition to messages, you can save your Outlook contacts, tasks, appointments, meetings, notes, and journal entries to MSG files. This utility saves any Outlook items to your disk or network share, creating the same folder structure as in Outlook. If necessary, you can create a different folder tree using macros.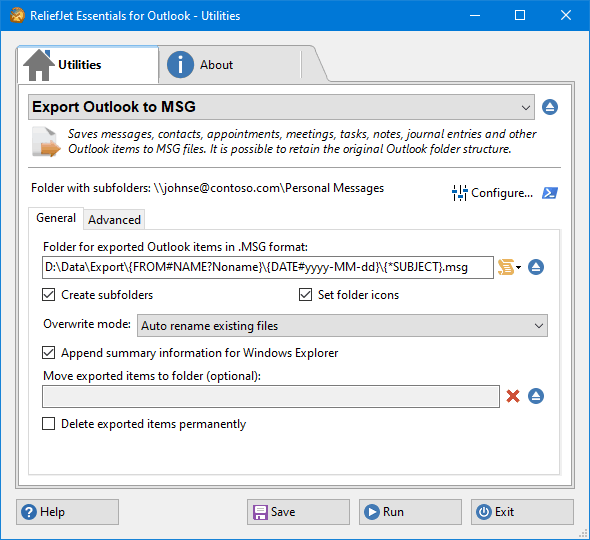 Flexible naming of files and folders
You can simply specify a folder for MSG files on your disk or network share. In this case, all messages will be saved to this folder. Additionally, the utility allows you to specify a template for naming folders and MSG files. In this template, you can use values of various fields of messages, contacts, or other Outlook items. For example, message subject, sender or recipient name, email domain, sent and received dates, current date, Windows environment variables, and many other values. And with the help of regular expressions, you can use only required parts of the subject, the message text, or any other message field in the names of target folders and files to be saved.
Email archiving
Storing email messages in separate files is a simple and convenient solution for backup and archiving. Among other benefits, this allows you to:
Manage the message archive with standard Windows backup and archiving tools.
Control access to messages using file system permissions.
Search archives for messages and attachments using standard Windows search.
View your email using Windows Explorer.
Store related emails, along with documents and images.
Restore your archives if you damage PST files and lose access to mailboxes.
Easily move emails between computers.
Save your mail, contacts, calendars, tasks, notes, and Outlook journals anywhere from USB and CD/DVD drives to OneDrive, Google Drive, Dropbox, and other cloud storages.
In many cases, regulatory or corporate policy decisions require all electronic correspondence be kept for a certain period of time. Exporting incoming and outgoing messages to MSG files is a great alternative to storing large amounts of data on expensive email servers.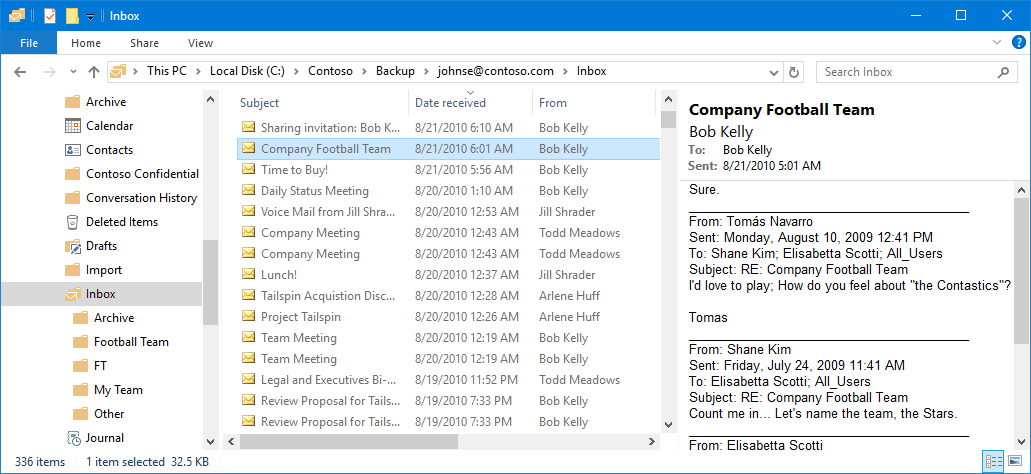 Email backup
Many companies have email retention policies established. They determine how much and how long data is stored in user mailboxes. If you exceed these limits, you cannot create new messages, and old emails are deleted automatically. Moreover, the use of PST files may be prohibited. In order not to lose your business mail, save important messages to individual MSG files.
Save and export to MSG files:
email messages in any date range using the filter provided;
incoming messages automatically, using integration with Outlook rules;
all messages in the selected folders or just the ones you have marked;
important mail by schedule, using command line capabilities;
any Outlook items from multiple mailboxes at once in batch files and scripts;
messages from Exchange Server Public Folders, Outlook Search Folders, and Shared Folders.
Instead of a usual Outlook backup, export Outlook items to MSG files, moving the saved data to another Outlook folder. In this case, the exported copy will be saved in a file, and the original Outlook items will be moved to the specified folder. This mode allows you to avoid duplicating files when you run the utility periodically for the same folders. Convenient search and high-reliability favorably distinguish MSG files from PST data files. If you damage the PST file, you will lose the entire archive at once, but if the MSG file is corrupted, only one message is lost.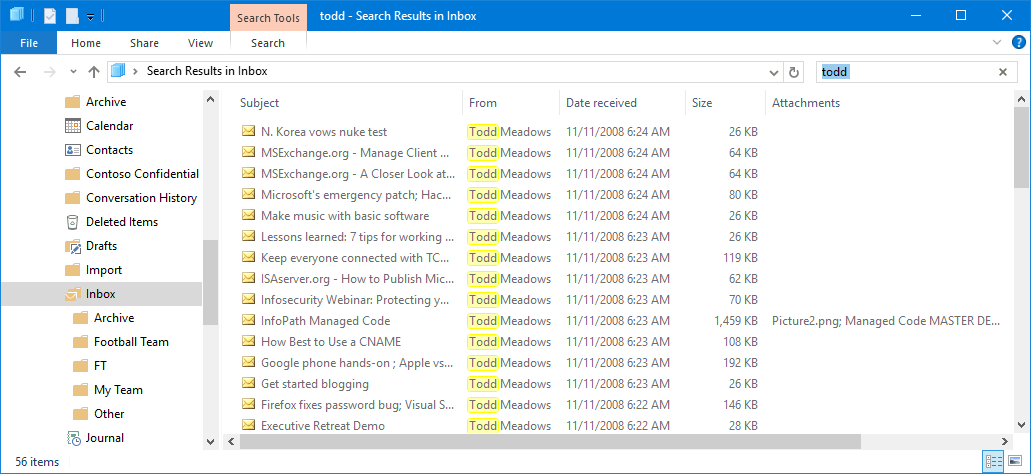 Keep your mail archives organized
Save received and sent messages together or separately. Set up one folder for saving sent messages and the other one for received emails or use MSG file naming templates. For example, you can save received messages to folders named as the sender's address and sent email to folders named as the recipient's address.
Many users organize their files in folders related to projects. They store everything in the project folder: Word documents, Excel reports, PowerPoint presentations, images, photos, and other files. But to see the mail conversations associated with this project, you need to go to Outlook and find the messages you need. Often, this is required months or years after you started working on the project, and the messages you want may be deleted. By storing your email messages, along with the other files associated with your projects, you'll always find them in the right place.
Additional columns in Windows Explorer
To see additional fields of saved MSG files in Windows Explorer, enable the "Append summary information for Windows Explorer" setting. The program saves the values of many different fields, for example: Subject, Company, Categories, Sender and Recipients, Account, Dates, Attachment names, Importance, and others. In addition, for tasks, appointments, and meetings, the utility saves: Owner, Attendees, Address, Duration, Start and End, Status, Percent completed, Attendees, and others.

Save the emails you need from Outlook to MSG in a couple of clicks
Once you have configured the utility, you can quickly save the selected messages. To do this, you need to add the utility to the "Favorites" in the context menu of Outlook items and folders. If you add the utility to "Favorites" on the Outlook ribbon and enable the "Do not ask for the configuration when I run the utility" mode, you can export specified Outlook folders to MSG files with a single click of a mouse.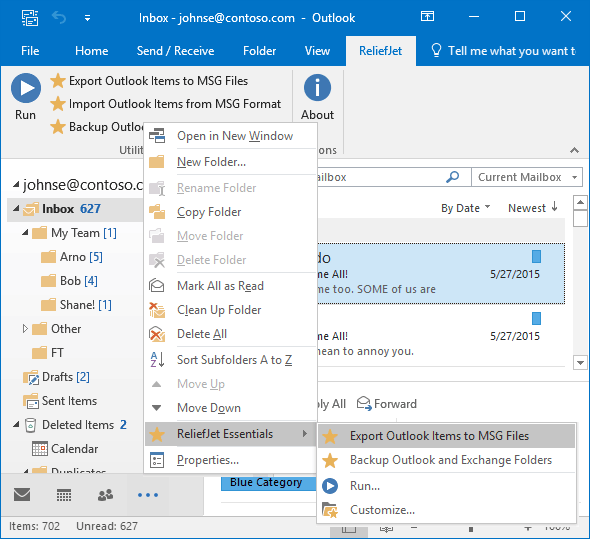 Bulk save MSG files from Outlook
The command-line application provided by the Professional Edition allows you to save messages, contacts, calendars, and other Outlook items from lists of PST files, your mailboxes, or other users' mailboxes. It also provides the ability to export Exchange Server Public Folders. This is most commonly used in scenarios of scheduled mail export, email migration and archiving, and integration with other applications and web services. You can use the command line in the Windows console and regular batch files, as well as in PowerShell. In addition, it can be used in other scripts and third-party applications to solve complex tasks related to Outlook and Exchange Server mail processing.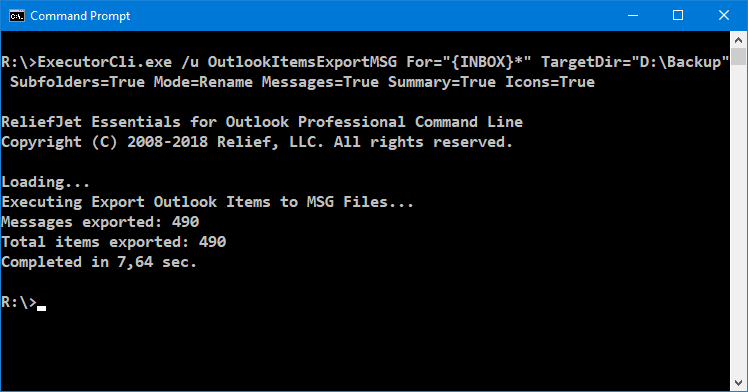 Extract all your mail from Enterprise Vault
When using the Veritas/Symantec Enterprise Vault with Outlook and Exchange, your archived mail is replaced with shortcuts. If you save these shortcuts from Outlook to your disk, you won't be able to open them anymore. You need an Enterprise Vault add-in for Outlook. To obtain emails from the shortcuts, enable the "Extract original items from Enterprise Vault shortcuts" option and specify the server address. The utility will then be able to save your mail directly from the EV archive to MSG files.
Described features are part of ReliefJet Essentials for Microsoft Outlook: fast and reliable productivity solution for Microsoft Outlook. Besides them ReliefJet Essentials provides many other useful features that significantly simplify every Outlook user's life. An Outlook add-in and a command line utility are also provided along with the standalone application.
Related Utilities: Convert PST to MSG, Import MSG to Outlook, Backup Outlook and Exchange Folders, Export Messages to EML, Export Contacts to vCard, Save Attachments from MSG, Remove Attachments from MSG.
Purchase ReliefJet Essentials for Outlook
For your convenience, we teamed up with PayPro Global to provide a secure and reliable platform for selling our software products online. The whole ordering process is supported by PayPro Global, who handles all transactions details. Your private data is 100% safe, as PayPro Global complies with the latest online security standards.
More than 70 traditional, international and local payment methods available including all major Debit and Credit cards, eWallets (PayPal, Alipay, Webmoney, etc.), Wire Transfers, and many more. All specified prices exclude VAT.
Our clients: