Mail Merge with Attachments
The utility performs a Mail Merge, creating personalized email messages, using a template, your contact base, and specified attachments. As an email template, you can use the files of standard Outlook formats: OFT or MSG. Such templates can be created directly in Outlook in the form seen by the recipients. The data source for mailing is a standard CSV spreadsheet file. You can create this table in Microsoft Excel or another program, working with tabular data and contact databases. Location for attachments is specified in the table or in the program settings. The utility allows you to use the template attachments. With this, you can send different or the same files to many recipients and combine both cases.
Unlike standard Microsoft Word mail merge tools, our utility provides a lot more features; it is faster and easier to use. You can use fields from a data table anywhere in a message: from the recipient addresses (including CC and BCC) to subject and message text. The utility provides the ability to select an Outlook account and the sender's address, distribute the sending time, limit selection of rows from the data source, combine template and table data, and a great deal more.
This utility is a safe and reliable way to work with mass mailings. After configuring the tool, you can easily create outgoing messages in a specified Outlook folder, without sending them. Here, you can see email messages exactly as they will be delivered to your recipients, making sure everything is in order. You can immediately send emails using the Redirect Messages utility. You can also run the Mail Merge again, sending messages right away.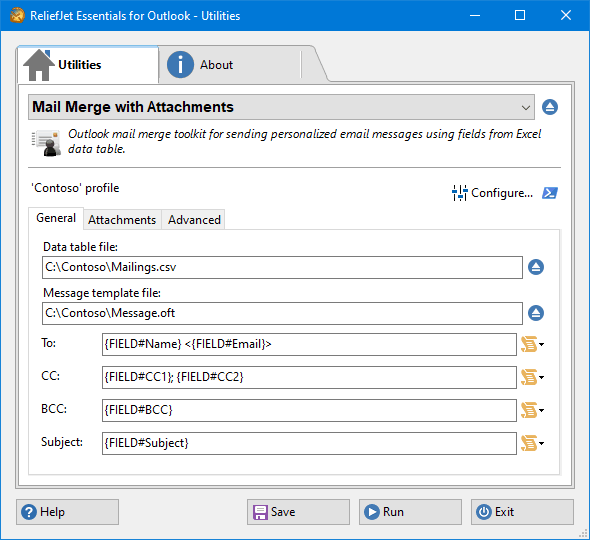 Described features are part of ReliefJet Essentials for Microsoft Outlook: fast and reliable productivity solution for Microsoft Outlook. Besides them ReliefJet Essentials provides many other useful features that significantly simplify every Outlook user's life. An Outlook add-in and a command line utility are also provided along with the standalone application.
Related Utilities: Redirect Messages, Send Messages Personally, Send Email Message, Message Statistics Report.
Purchase ReliefJet Essentials for Outlook
For your convenience, we teamed up with PayPro Global to provide a secure and reliable platform for selling our software products online. The whole ordering process is supported by PayPro Global, who handles all transactions details. Your private data is 100% safe, as PayPro Global complies with the latest online security standards.
More than 70 traditional, international and local payment methods available including all major Debit and Credit cards, eWallets (PayPal, Alipay, Webmoney, etc.), Wire Transfers, and many more. All specified prices exclude VAT.
Our clients: