Send Email Message
The utility sends an Outlook e-mail message using the specified account, sender's address, recipient lists, subject, message text, and file attachments. In addition, you can specify a, prepared in advance, Outlook message template in OFT or MSG format.
Sending emails in one action is useful in many cases. Even simply sending mail, based on Outlook templates, becomes much simpler; instead of a whole series of actions, it requires only a single mouse click. Integration with Outlook rules allows you to send an e-mail message in response to incoming messages that meet the required conditions. The command line helps send the desired Outlook messages in your scripts and batch files.
Thanks to the support of macros, the utility significantly enhances Outlook templates. Macros are special words in message subjects and texts that are replaced with the values of message fields, the current date, or Windows environment variables when sending. When configuring the utility, if you specify message field values along with a template, these values will be used, instead of stored in a template. It provides even greater flexibility and productivity. Creating an email by template, you no longer need to change the sender, recipients, attachments, and other fields each time. Also, it is not necessary to create a separate template for each set of field values. Just add a separate button on the Outlook ribbon or use the Utility Manager.
A unique feature of the utility is the ability to specify the message text in the form of HTML source code, as well as automatic attachment of files from the specified folder on your disk drive or network share, based on specified criteria.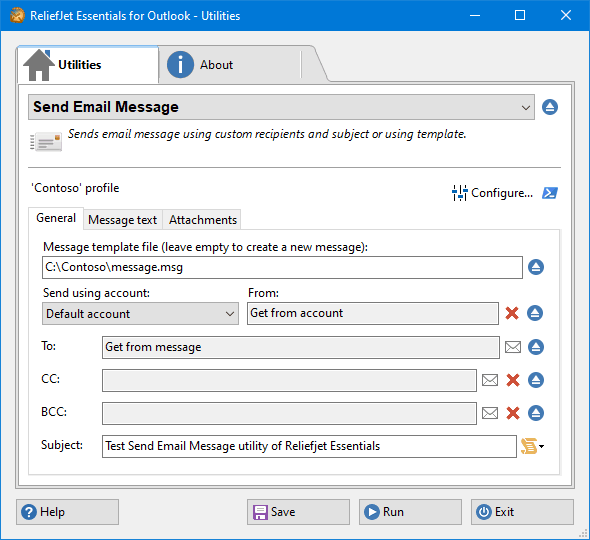 Described features are part of ReliefJet Essentials for Microsoft Outlook: fast and reliable productivity solution for Microsoft Outlook. Besides them ReliefJet Essentials provides many other useful features that significantly simplify every Outlook user's life. An Outlook add-in and a command line utility are also provided along with the standalone application.
Related Utilities: Redirect Messages, Send Messages Personally, Mail Merge with Attachments, Message Statistics Report.
Purchase ReliefJet Essentials for Outlook
For your convenience, we teamed up with PayPro Global to provide a secure and reliable platform for selling our software products online. The whole ordering process is supported by PayPro Global, who handles all transactions details. Your private data is 100% safe, as PayPro Global complies with the latest online security standards.
More than 70 traditional, international and local payment methods available including all major Debit and Credit cards, eWallets (PayPal, Alipay, Webmoney, etc.), Wire Transfers, and many more.
Our clients: