Redirect Messages
Outlook built-in features allow you to forward or resend one selected email message only. When forwarding, Outlook creates a special message with citation and header of the original message, and resending is possible only for outgoing messages. Attempting to forward multiple selected messages causes them to be attached to the newly created message. All these restrictions make it inconvenient or impossible to perform various operations for forwarding and redirecting messages. This utility extends the capabilities of Outlook by forwarding, redirecting, and resending messages with advanced features.
Key advantages of the utility:
Forwards, redirects, or resends Outlook emails with one click.
Allows you to change email account, sender, and recipients (including "To", "Cc" and "Bcc").
Allows you to change the subject of the message and the text of the message, replacing the text completely or inserting a fragment at the beginning or end of text.
Seamlessly integrates into Outlook rules, enabling you to forward incoming messages automatically with advanced settings.
Supports HTML formatting of message texts.
Expands macros in message subjects and texts using the data of the original message.
Provides a command line utility for automating in various scenarios and running on a schedule.
To forward, redirect, or resend Outlook email messages with additional features, specify the folders with the original messages to be forwarded or select them, select the desired account, sender, recipients, edit subject and text of the forwarded messages, and run the utility. During execution, the utility will send a new message based on each source message, changing all the specified fields. In addition, the utility can delete the original message, if necessary. Unlike the standard Outlook forwarder, the utility will not quote the original message by adding a header. If you need to, you can create a header by using text and macros. The unique feature of the utility is the ability to use HTML tags in message texts.
Support for integration with Outlook rules and command line opens up additional possibilities for automating forwarding and redirection, using in batch files, scripts, running by schedule in Windows Task Scheduler, and other scenarios.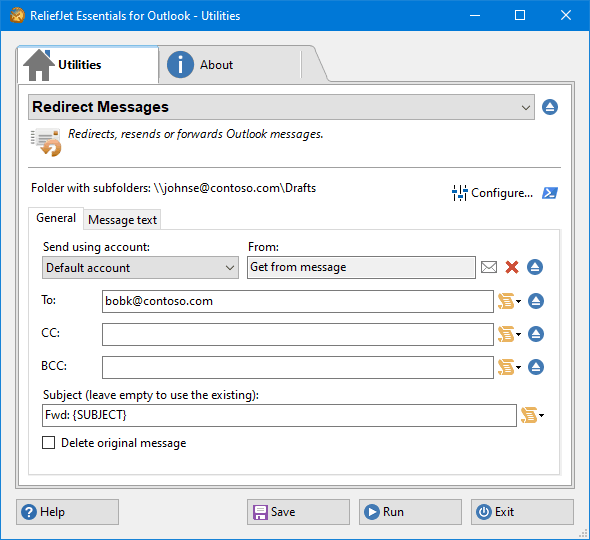 Described features are part of ReliefJet Essentials for Microsoft Outlook: fast and reliable productivity solution for Microsoft Outlook. Besides them ReliefJet Essentials provides many other useful features that significantly simplify every Outlook user's life. An Outlook add-in and a command line utility are also provided along with the standalone application.
Related Utilities: Send Email Message, Send Messages Personally, Mail Merge with Attachments, Message Statistics Report.
Purchase ReliefJet Essentials for Outlook
For your convenience, we teamed up with PayPro Global to provide a secure and reliable platform for selling our software products online. The whole ordering process is supported by PayPro Global, who handles all transactions details. Your private data is 100% safe, as PayPro Global complies with the latest online security standards.
More than 70 traditional, international and local payment methods available including all major Debit and Credit cards, eWallets (PayPal, Alipay, Webmoney, etc.), Wire Transfers, and many more. All specified prices exclude VAT.
Our clients: