Convert EML to PST
This utility converts email message files from EML to PST format for Outlook. From a large number of EML files in different folders, one or more PST files are being created, depending on the settings of the utility. For example, when converting EML messages, the utility can immediately split the resulting PST files by size or by year.
Messages in EML and EMLX formats are used by different email clients: Windows Live Mail, Mozilla Thunderbird, Apple Mail and others, but Outlook does not work directly with them. You must import these files into Outlook or convert them to an Outlook-friendly format. Outlook uses PST data files to store your email. This is the native format of the message base. After the messages are converted from EML to PST, the resulting data file can be opened in Outlook.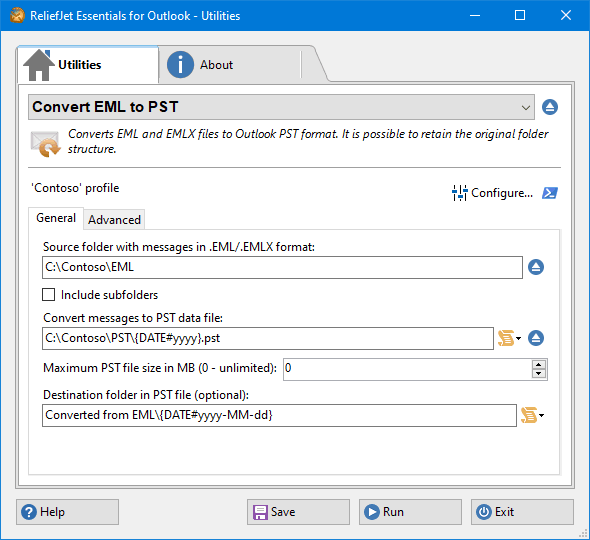 The utility for converting mail from EML/EMLX files to PST is similar to the utility for importing EML into Outlook, with a few exceptions:
When converting EML to PST, existing PST files are used, or new PST files are being created, and when you import messages into Outlook, you must select an existing mailbox, a PST data file, or an Exchange Server public folder.
When converting messages from EML files to PST data files, you can use macros in the PST file name. Macros allow you to sort messages by date, sender and recipient data, and other messages fields. You can use the date and Windows environment variables, creating sets of PST files the way you want.
When converting EML files, the resulting PST files can be split by size. The maximum size of PST files is limited, and an additional operation to split PST files is not required.
The messages in the resulting PST files will be the same as if you received them directly in Outlook. All images, HTML formatting, attachments, and headers will be retained in the original form. When converting, source EML files can be moved to another folder. Here, when you run the utility again on the same source folder, no duplicate messages will be created in PST files.
Sometimes, instead of importing EML into Outlook, it is necessary to convert EML to PST. For example, you must save messages from cloud or NAS to local PST files, creating a separate PST file for each year, month, or day. Another example is migrating old user mailboxes, without importing them and connecting them to Outlook.
Conversion of messages from EML to PST is used for migration or preparation for migrating an old email database from EML format to Outlook and Exchange Server mailboxes. Folders with EML files allow you to estimate the size of the new message database and migrate the data in parts. For converting EML to PST by schedule or in batch files, use the command line capabilities. By using the command line, you can create mail migration scripts for any number of users in organizations of all sizes.
Described features are part of ReliefJet Essentials for Microsoft Outlook: fast and reliable productivity solution for Microsoft Outlook. Besides them ReliefJet Essentials provides many other useful features that significantly simplify every Outlook user's life. An Outlook add-in and a command line utility are also provided along with the standalone application.
Related Utilities: Import EML to Outlook, Convert EML to MSG, Convert EML to HTML, Import PST to Outlook, Remove Attachments from EML.
Purchase ReliefJet Essentials for Outlook
For your convenience, we teamed up with PayPro Global to provide a secure and reliable platform for selling our software products online. The whole ordering process is supported by PayPro Global, who handles all transactions details. Your private data is 100% safe, as PayPro Global complies with the latest online security standards.
More than 70 traditional, international and local payment methods available including all major Debit and Credit cards, eWallets (PayPal, Alipay, Webmoney, etc.), Wire Transfers, and many more. All specified prices exclude VAT.
Our clients: