Find Duplicate Messages
ReliefJet Essentials has many advantages over OutlookFreeware.com Utilities including the following:
| Feature set | OutlookFreeware Utilities | ReliefJet Essentials |
| --- | --- | --- |
| Fast and easy to use Outlook add-in | Yes | Yes |
| Standalone launcher desktop application | Yes | Yes |
| Allowed to run in domain enviroment | No | Yes |
| Ability to save configuration and results | No | Yes |
| Selecting folders with subfolders | No | Yes |
| Working with multiple Outlook profiles, accounts and PST files | No | Yes |
| Integration with Outlook rules | No | Yes |
| All available utilities in one package | No | Yes |
| Product support | Community forum | Yes |
| Product documentation | Web site content | Online Help and PDF |
This utility will automatically find duplicate Outlook emails and assign them a category, flag them, or set an expiration date. This process is also completely secure, as it simply marks duplicate messages rather than remove them. You can delete the marked duplicates or move them to another folder by yourself or using another utility for automatically removing duplicated Outlook messages.
In what cases do duplicate emails appear in Outlook?
After importing data or restoring emails from a backup archive.
Due to errors when manually copying Outlook messages.
After synchronization failures or connection errors with the mail server.
The wrong outlook account setting up.
As a result of the Outlook rules not working properly.
If you receive mail multiple times because of connection errors or incorrect settings.
After Microsoft Office or Windows updates.
If you transfer email messages or entire mailboxes to another computer.
When you merge PST data files, mailboxes, or Outlook folders.
After switching from other email programs to Outlook.
As a result of malfunctioning hardware or Outlook add-ins and programs.
Due to faulty antivirus applications that interfere with the process of receiving and sending emails.
Because of automated system failures that cause identical messages to be sent erroneously.
You can face many unique situations when duplicated emails that appear in Outlook. Once you have dealt with the source of the problem, you need to find redundant duplicates.
Why search for and remove duplicate Outlook messages?
The duplicate messages in Outlook are garbage that devours your time and attention.
It is very easy to make a mistake and reply to the same message twice, which leads to unpredictable results in your conversations with customers, colleagues, and friends.
When you search in Outlook, you will get a long list of the same results and it is unclear as to what to do next.
Duplicate messages take up extra space in your mailbox, slowing down startup and the overall performance of Outlook.
A lot of similar messages are very annoying, confusing, and decrease your efficiency.
Migrating mail along with duplicates takes much more time and resources than removing duplicates beforehand.
Backing up mail with duplicates takes a lot of extra time and extra space in the archives.
Email databases are often inflated due to duplicate lead to data file corruption.
Outlook email duplicates need to be found and neutralized as quickly as possible! This simple procedure should be done at least once a week on a permanent basis and necessarily before each backup. If you do not find duplicates in a timely manner, you will spend much more time later and may face serious troubles. You can easily avoid losing mail and relationships with employees and customers by keeping your mailbox in order.
Why use our tool to find duplicate Outlook messages?
Of course, you can try to search for duplicates yourself. To do this, you need to compare message subjects, senders, recipients, attachments, body text, and the dates of many different messages. This is not easy even if you need to check a dozen or two messages in one folder. But if you have many duplicates and they are in different folders, then it is extremely difficult to do it yourself and will lead to mistakes. You will spend a lot of time, surely make a mistake and decide that the good message is a duplicate. As a result, you will not pay due attention to such a message, and it will be lost amongst the others. That is why it is always better to use special software that will find duplicated Outlook messages quickly and correctly.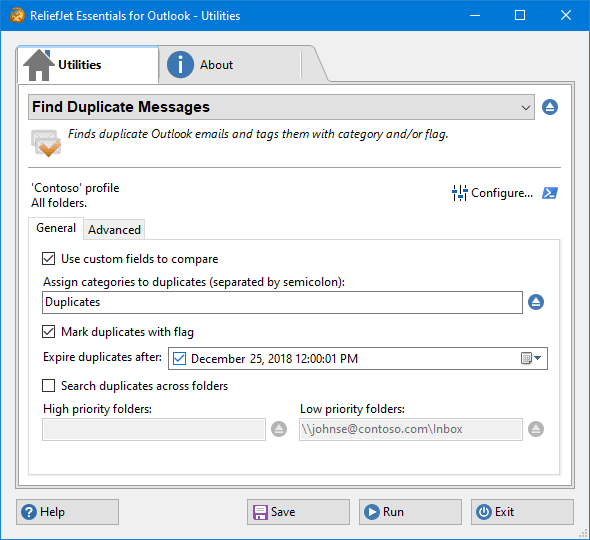 Feel free to run the utility as soon as you install it
By default, the program searches for duplicate messages separately in each selected Outlook folder and assigns them the "Duplicate" category. If the expiration date is specified, they will be crossed out in the Outlook message list after that date, so you can find and remove them manually. This is perfectly safe and will not lead to the loss of any data.
Searching for duplicate messages across Outlook folders
If the same messages are found in several folders at once, the ones in the lowest priority folders will be considered duplicates.
If the high and low-priority folder lists are empty or if the messages are in the same folders, the oldest message is considered a duplicate.
Priority is determined by the position of the folder in the high or low-priority folder lists.
A message from the highest priority folder is considered the original, and any message below is considered a duplicate.
Where can I search for duplicate messages?
In any mailboxes and folders of your Outlook profiles, including Exchange Public Folders and Outlook Search Folders.
In PST data files that can be connected in Outlook or our program.
In the selected email messages, using our Outlook add-in.
Massively in user mailboxes, and Exchange Server and Office 365 Public Folders using the command line app provided by our product.
Use a standalone app or run directly from Outlook
You can find duplicated messages from both a standalone application or directly from the Outlook plug-in. If you run a search for duplicates from Outlook, you can tag duplicates among the selected messages. Searching for duplicates is the same using all available options; use any that is convenient for you.
Search for and tag duplicate emails in user mailboxes
Batch processing of user mailboxes from the command line is available in the Professional Edition. Instead of removing duplicates, you can highlight duplicate messages for users. Subsequently, it is up to each user to decide what to do with the duplicates.
Search for duplicate Outlook messages by schedule
In order to keep your inbox in order, you need to periodically clean it from duplicates. You can do this by configuring the command line utility to start from the familiar Windows Task Scheduler.
We guarantee compatibility with the latest versions of Outlook
Outlook is updated almost every week nowadays. This results in various failures and malfunctions of other Outlook applications and add-ons. We verify the correct operation of all our utilities with each new version of Outlook, including this utility.
What can I do when I find duplicate emails?
Create an Outlook Search Folder based on a category or flag. This folder will contain only the duplicates that you can safely delete or move to another folder.
Remove found duplicates manually. When you see two identical messages next to each other, one of which is marked with an appropriate flag or category allowing you to know exactly which one is the duplicate.
Remove assigned categories or flags from duplicates using the Categorize Outlook Items tool.
Clear message expiration dates using the Set Message Archiving Settings utility.
Automatically delete duplicate email messages or move them to the selected folder, using the Remove Duplicate Messages tool.
By finding duplicate Outlook emails, you will avoid common emailing mistakes, increase productivity, reduce the size of your mailbox, and speed up Outlook's startup and operation performance.
Described features are part of ReliefJet Essentials for Microsoft Outlook: fast and reliable productivity solution for Microsoft Outlook. Besides them ReliefJet Essentials provides many other useful features that significantly simplify every Outlook user's life. An Outlook add-in and a command line utility are also provided along with the standalone application.
Related Utilities: Remove Duplicate Messages, Find Duplicate Contacts, Find Duplicate Calendar Entries, Find Duplicate Tasks, Find Duplicate Notes, Find Duplicate Journal Entries, Duplicate Outlook Items Report.
Purchase ReliefJet Essentials for Outlook
For your convenience, we teamed up with PayPro Global to provide a secure and reliable platform for selling our software products online. The whole ordering process is supported by PayPro Global, who handles all transactions details. Your private data is 100% safe, as PayPro Global complies with the latest online security standards.
More than 70 traditional, international and local payment methods available including all major Debit and Credit cards, eWallets (PayPal, Alipay, Webmoney, etc.), Wire Transfers, and many more. All specified prices exclude VAT.
Our clients: