Send Messages Personally
ReliefJet Essentials has many advantages over OutlookFreeware.com Utilities including the following:
| Feature set | OutlookFreeware Utilities | ReliefJet Essentials |
| --- | --- | --- |
| Fast and easy to use Outlook add-in | Yes | Yes |
| Standalone launcher desktop application | Yes | Yes |
| Allowed to run in domain enviroment | No | Yes |
| Ability to save configuration and results | No | Yes |
| Selecting folders with subfolders | No | Yes |
| Working with multiple Outlook profiles, accounts and PST files | No | Yes |
| Integration with Outlook rules | No | Yes |
| All available utilities in one package | No | Yes |
| Product support | Community forum | Yes |
| Product documentation | Web site content | Online Help and PDF |
You can send email messages to multiple recipients directly from Outlook in several ways. You can simply list all the recipients in the "To" field, but in this case, each will see the entire list of recipients, which usually is unacceptable. You can specify all recipients in the "Bcc" field and leave the "To" field blank, but most spam filters will delete your message. In addition, the recipient will not see themselves in the message recipients, which does not improve communication. The last option is to copy the draft message for each recipient and send each message individually. But if you have many recipients or the mailing should be done often, it will require a lot of time and is fraught with dangerous mistakes. None of the options offer the ability to personalize your mailings. Our utility solves all problems in one click.
Key program benefits:
Sends personalized email messages to all recipients listed in the "To" field.
Creates an individual email message for each recipient with a single click on the Outlook message window ribbon.
Automatically expands the Outlook recipient groups.
Can retain "Cc" and "Bcc" of the message, if necessary.
You can save the original draft of the message for subsequent mailings.
Supports the use of macros in the message subject and text, which allows you to personalize greetings and other elements of the message.
Allows you to perform mass mailing of several draft templates at once.
To send a personalized mass mail to multiple recipients in Outlook, simply create a new message, list them all in the "To" field, and run the utility directly from the message window. The utility will create a separate personalized message for each recipient, if necessary, expanding the contact groups and retaining other address fields. In addition, the utility will expand all supported macros used in the subject and text of each message.
When using the utility, we recommend disabling the "Send immediately when connected" option on the "Advanced" tab of Outlook options. In this case, you can see all the messages in the "Outbox" before sending. If you run the utility not from the Outlook message window's ribbon, but from a standalone application or from the main Outlook ribbon, it will use all the messages in the selected folders as templates to send!
Command line support allows you to perform personalized mailing using predefined templates on a schedule and in batch files and scripts.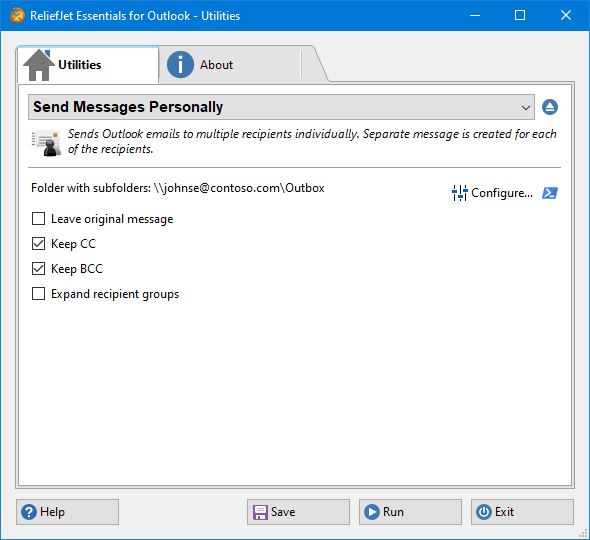 Described features are part of ReliefJet Essentials for Microsoft Outlook: fast and reliable productivity solution for Microsoft Outlook. Besides them ReliefJet Essentials provides many other useful features that significantly simplify every Outlook user's life. An Outlook add-in and a command line utility are also provided along with the standalone application.
Related Utilities: Mail Merge with Attachments, Redirect Messages, Add BCC to Messages, Sort Message Recipients, Send Email Message, Message Statistics Report.
Purchase ReliefJet Essentials for Outlook
For your convenience, we teamed up with PayPro Global to provide a secure and reliable platform for selling our software products online. The whole ordering process is supported by PayPro Global, who handles all transactions details. Your private data is 100% safe, as PayPro Global complies with the latest online security standards.
More than 70 traditional, international and local payment methods available including all major Debit and Credit cards, eWallets (PayPal, Alipay, Webmoney, etc.), Wire Transfers, and many more. All specified prices exclude VAT.
Our clients: